16 February 2022 | Blog
IATA calls for end to US pre-departure testing – that's good...isn't it?
With research suggesting that travel restrictions only delay the peak of a new wave by a few days, and the UK announcing the removal of pre-departure testing for vaccinated incoming travellers, we're all once again confused about where we stand. What do passengers need for travel, and how can they (and airlines!) keep up with what is required of them?
According to IATA's Director General, Willie Walsh, "travel restrictions have little to no impact in terms of preventing [COVID-19's] spread," and that "fully vaccinated travellers bring no extra risk to the local population." As such, he is maintaining that international travellers should not have to do any additional screening and travel should be "managed in the same way as access to shopping malls, restaurants or offices."
This sounds really positive, right?
No more testing for vaccinated travellers entering the US – great news! But in fact, it's once again just talk of one region changing its rules while most others will continue to have strict testing/contact tracing/quarantine mandates in place…in short, it's still chaos out there!
15below's CEO, Nicholas Key, thinks this level of confusion is set to remain a part of the travel experience until at least 2024, saying: 
"It will be a long time before all countries adopt this approach, so travellers will continue to look to their airline or travel provider to give them COVID-19 advice in pre-departure communications. I strongly believe the CDC's Attestation and Contact Tracing requirements for the US are here to stay for a couple of years, in some form at least, so digitalizing the collection of this data is so important to ease the customer journey and optimize the airlines' operations, whilst remaining compliant. 
All these unknowns mean even more need for technology that can personalise communications!"
How we can help
To make sure we have access to the most comprehensive, up-to-date COVID-19 information, we have partnered with travel-risk intelligence experts, Sitata which provides:
The latest updates to entry requirements and travel restrictions for any destination.
COVID-19 test bookings for departure and return journeys for anywhere in the world.
Real-time notifications for any type of disruption from flight delay to protest or violence.
By combining this data with our powerful workflows, you are guaranteed to get the right information to every one of your passengers at the right time, reducing:
calls into your contact centre 
queues at the airport
denied boarding
fines
complaints
To find out more about how you can use this information and take the stress and cost out of keeping your passengers informed and empowered, take a look at our COVID Solutions.

Keeping up with the CDC's Attestation and Contact Tracing orders
With the CDC's Attestation and Contact Tracing orders likely to remain in place for the foreseeable future, carriers can digitalise their data collection using our microsite & API solution developed specifically for airlines carrying international travellers into the USA and its territories. 
With real-time PNR integration and compliance with every aspect of the CDC's orders, airlines including JetBlue have seen huge efficiencies in the collection of this data; fully automating the process has eased pressure experienced by airport and call centre staff.
Our fully-automated solution works as follows: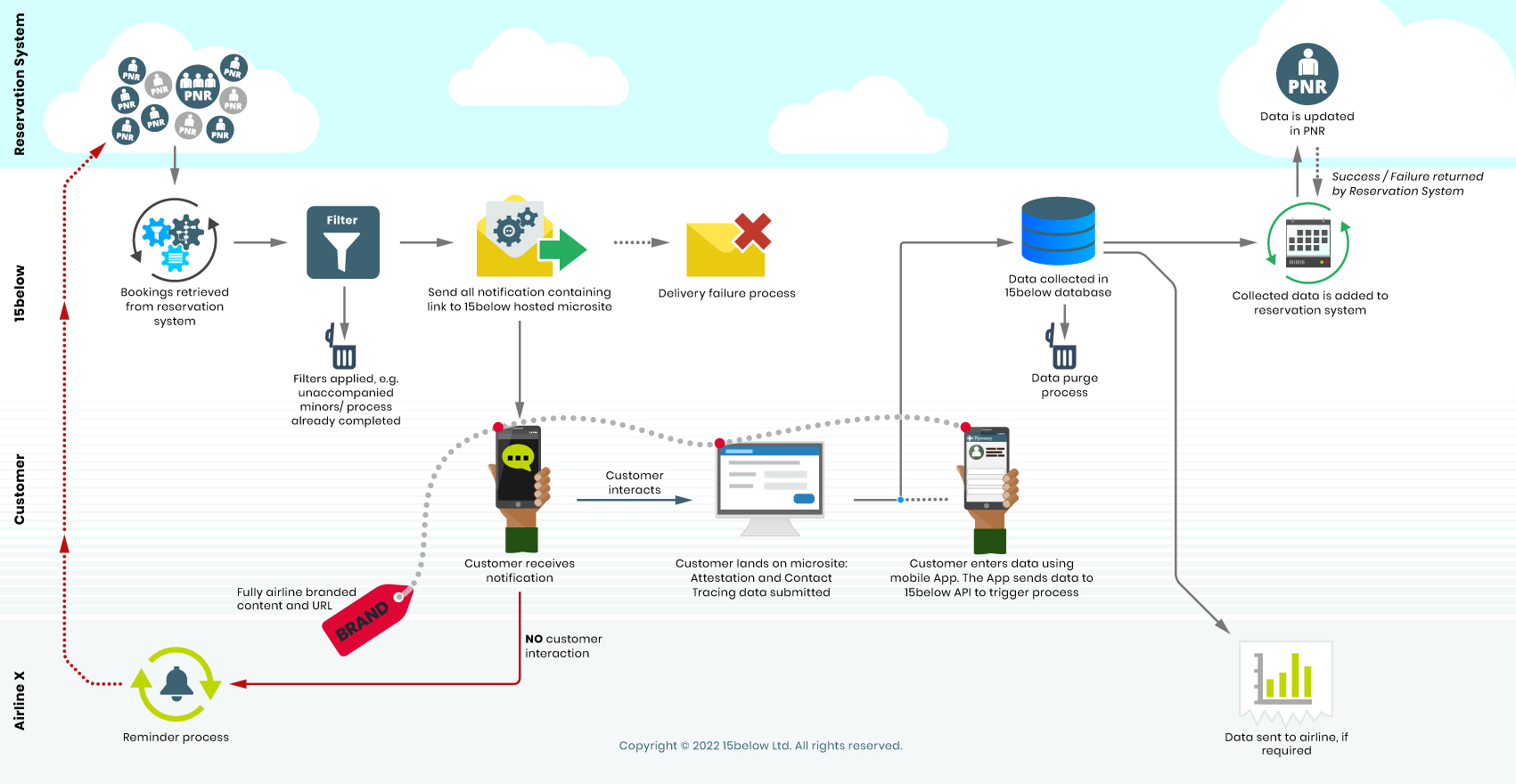 Copyright © 2022 15below Ltd. All rights reserved. 
Best practice: Pre-departure communications by SWISS
Another vital customer touchpoint for airlines to focus on while COVID-19 continues to impact the travel experience is pre-departure communications.
SWISS, Brussels, Lufthansa and Austrian have implemented a 'Travel Checker' email, providing each passenger with personalised information to help them prepare for their journey: This means every passenger receives access to a personalised list of requirements based on their country of departure and arrival.


Their passengers are left with no doubt about what they need to do. Plus, these airlines are continuing to improve what they're including in their emails to make sure they are providing the very best information to make the journey as smooth and stress-free as possible.
We talk more about pre-departure communications and what your customers need from you in a previous blog post.

To find out more about the solutions we've covered above, or to discuss your requirements in more detail, get in touch and one of our passenger experience experts will be very happy to help.
Also, you can watch our on-demand webinar with partner Sitata to find out more about our COVID Solutions.