15 March 2022 | Blog
3 reasons why ancillary revenue should not currently be your top priority
At the end of 2019 Ryanair described a "challenging" quarter that saw a 27% rise in ancillary revenue to £800 million. 
Even in 2020, when the industry was at its lowest point, airlines around the world were still generating more revenue from ancillary upsell than ticket sales: Wizz Air topped the leader board with nearly 56% of its revenue coming from ancillaries –41.3% points higher than the average generated by the world's top 75 commercial airlines that year.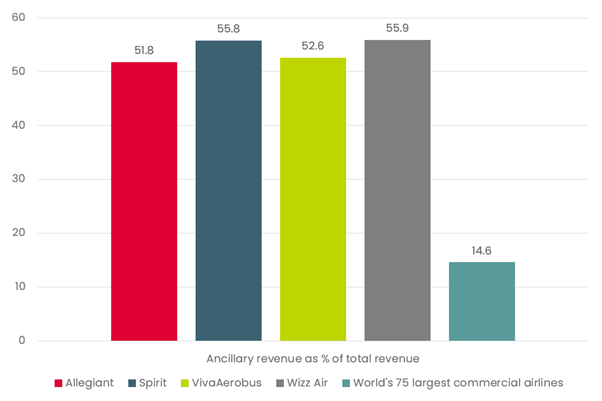 Back then, things were changing fast but the number of people it impacted was comparatively low: Only 1.8 billion passengers flew during 2020, vs. 4.5 billion in 2019.
But now that traveller numbers are on the rise, the impact of changing travel requirements reaches much further. Airlines have more to consider than ever to keep passengers happy, which is why when it comes to keeping passengers informed and empowered, ancillary revenue must naturally drop down the list of priorities.
If ancillary revenue is still your #1 priority, here are three reasons you need to shift your focus (for now):
1.    Passengers are not meeting their COVID-19 travel requirements

The amount airlines are being fined due to providing passengers with incorrect information is huge. Figures released by the Portuguese government between Dec 1, 2021 and Feb 6, 2022 (10 weeks) revealed that 3,273 offences across 41 airlines were recorded where passengers failed to meet COVID-19 entry rules. 
With an average fine of €30,000 per offence, that equates to €98.2m. The average across those 41 airlines is €2.4m over just 10 weeks!

2.    Complaints are going up
In March 2021, DOT received 3,831 complaints about airline service. This was up 15.6% on the previous month. 
A while back, we created an infographic that showed how one poor experience shared on Facebook can have dramatic effects on an airline's bottom line. Based on an airline carrying 8 million contactable passengers per year with 22% experiencing some form of disruption (this figure will be a lot higher now), the result was a loss of $5.1m in revenue each year due only to negative reviews on this one social media platform!
The effects of negative press are far reaching, so even if you're not directly responsible for your airline's brand day-to-day, the impact of that poorly handled disruption will touch every team. And to be clear, it's not the act of disruption that cause the issues – it's how it's handled. See our blog post - How to maximise the opportunities created by travel disruption – for more insights on this.
3.    Unmanageable customer enquiries
According to The Points Guy, call wait times of up to nine hours are being caused by: 
Reduced staff numbers. 
Technological issues associated with unprecedented call volumes. 
Passengers trying to rebook using vouchers from cancelled flights in 2020. 
Unusually long call times with questions about COVID-19 requirements.  
However, all the challenges above could easily be resolved with proactive, automated communications.
By integrating advanced data sources into your pre-departure communications, you can guarantee each traveller will be prepared with:

Correct documentation.
Quarantine restrictions.
Testing requirements (and can book PCR tests for the outward and return journeys).
Good to know information about the airport, onboard, and destination to avoid any nasty surprises.
All of this proactively ensures passengers are prepared to travel with confidence and will cut a huge proportion of calls into the contact centre, leaving customer service agents available to handle only complex scenarios that need human interaction.
Ancillaries aren't gone for good
This is not to say that ancillaries have no place in pre-departure communications at all. If you're covering all the basics well, there is an argument for ancillary promotion as well. But be aware that you will only see results from customers that trust you; if they feel you have let them down and not offered a suitable solution, your bottom line will be impacted by a lack of engagement. 
What's the best way to earn their trust? With relevant, proactive, personalised communication
If you want to learn more about how you can use automated pre-departure communications to resolve many of your customer service challenges, we discussed this in our recent downloadable webinar about 'The new role of pre-departure communications'.