19 April 2022 | Blog
3 digital trends helping airlines maintain control during challenging times
Has the travel industry ever had so many challenges to handle at one time? Just as airlines seemed to be getting a grasp on how to manage operations with significantly reduced staff and budgets, fuel prices, the war in Ukraine, and the rising cost of living have all put additional pressure on the industry.
With experts suggesting the cost of crude oil will increase as much as 156% vs. the start of 2022, and with fuel accounting for up to 40% of operating costs, airlines are left with little choice but to increase prices, and potentially stifle demand. Chief Executive at Qantas, Alan Joyce, has warned the average fare is likely to increase by 7% this year.
However, in times of trouble, the travel industry has shown that it can be hugely innovative in order to survive: Here are three digital trends that airlines are embracing to stay in control during a time of extreme pressure. 
1. Enabling customers to self-serve
The rise of touchless technology was an important innovation that came out of the pandemic. It had been in the background for a while with companies like SWISS leading the way with automated check-in and print-at-home bag tags back in 2018, but making it mainstream was an important part of the industry's survival post-COVID. 
Singapore Airlines invested heavily in its technology to enable customers to self-serve. Passengers can check-in and generate a mobile boarding pass on the airline's app as well as pre-order duty free shopping to be delivered to their seat. Then, at the airport self-service kiosks allow customers to print their own boarding passes and baggage tags.
Etihad went beyond the traditional customer journey and introduced touchless kiosks that evaluated the temperature, heart and respiration rate of passengers and crew to detect potential illness and minimize disruption at the airport. The airline's Vice President Hub and Midfield Operations, Jorg Oppermann, said that the airline saw this technology as "another step towards ensuring that future viral outbreaks do not have the same devastating effect on the global aviation industry as is currently the case."
A survey by Amadeus in October 2021 revealed that passengers would feel more confident travelling if they had access to the following self-serve technology: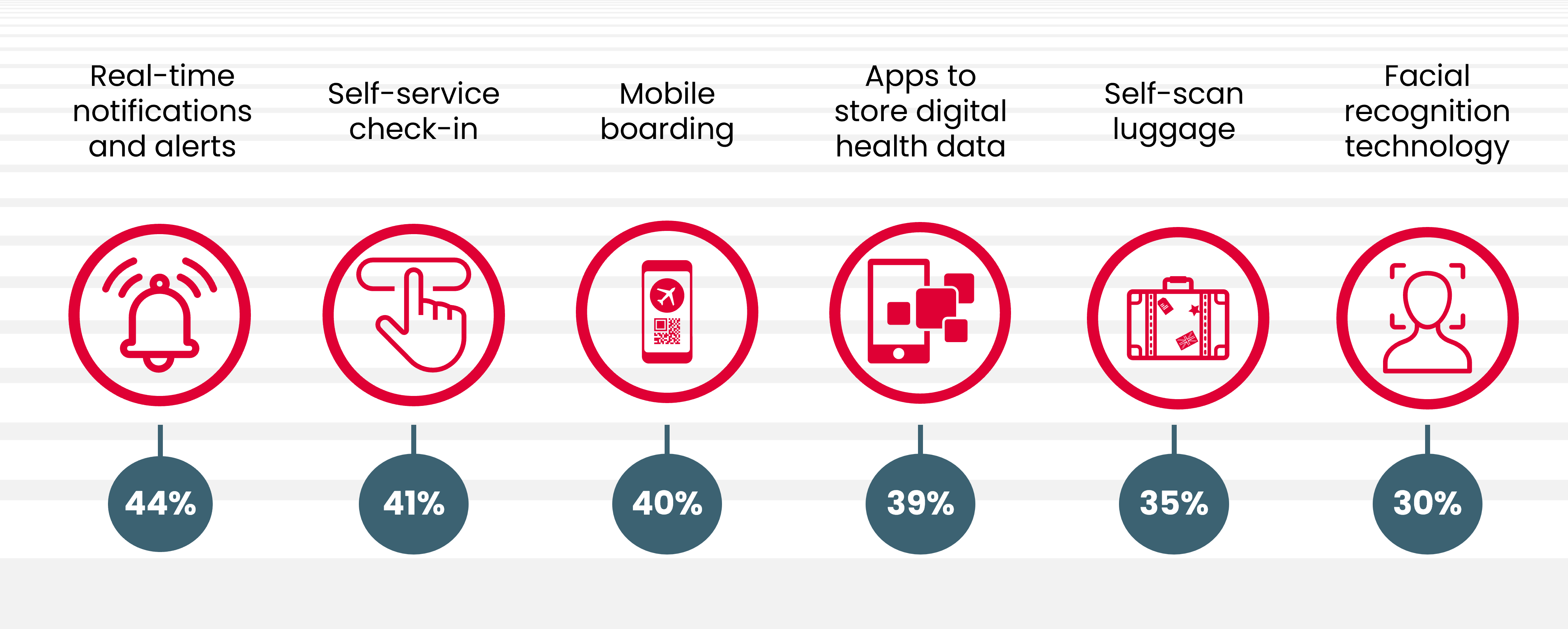 Source: Amadeus, Rebuild Travel Survey 14-10-2021
So, if you've been considering updating your customer journey to enable your passengers to self-serve more, now is the time.
2. Digitalising customer service 
More than two years after the outbreak of Covid-19, airlines (and passengers) are still suffering from mass cancellations due to understaffing and sick leave, causing chaos for staff in the airport and contact centres.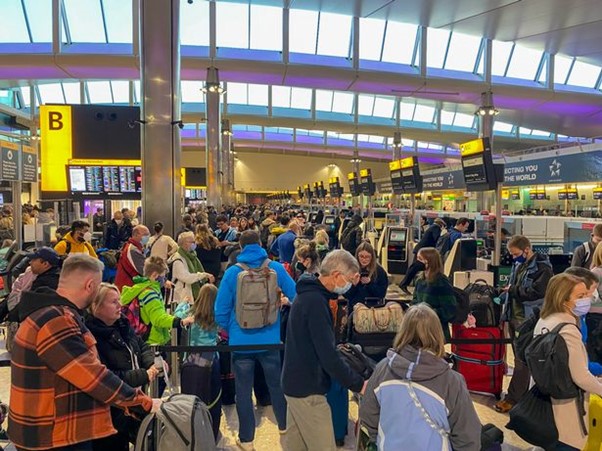 Chaotic check-in at terminal 2 at Heathrow Airport on April 9 2022 – Image source: My London
With severely reduced operations teams, passengers have noticed a significant impact on the level of customer service they are receiving – particularly during times of disruption.  In 2021, the US Department of Transport (DOT) received 49,958 complaints: This is down 51% from the 102,560 complaints received in 2020 but up 226% from the 15,332 complaints received in 2019.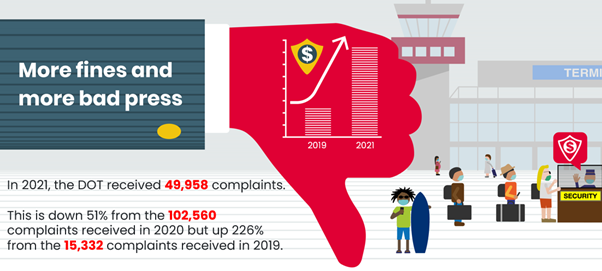 As a result, airlines are turning more and more to digital solutions to achieve a satisfactory, scalable level of customer service without the need for human interaction. 
Even as far back as 2017, research by SITA suggested that 52% of airlines had plans to implement advanced artificial intelligence (AI) initiatives to enhance their customer service offering. AI is fantastic for allowing airlines to reduce operational costs with faster resolution of issues as the system learns and optimises its responses. But it's not a small project.
As perhaps a slightly lower-tech, but still highly effective solution, ultra-low-cost carrier Spirit launched a fully digital process that allowed customers to get a refund for a cancelled flight without the need to speak to a human. In just two minutes, passengers complete a series of steps via SMS and a refund is processed the same day.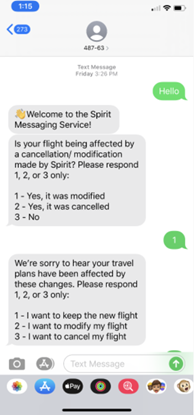 Source: The Points Guy
This shows that a solution doesn't have to be highly technical to work seamlessly and offer an outstanding service for passengers.
3. Automating passenger communications
The business case for automating passenger communications is very strong, which is why many of the world's best-known airlines around the world use it to keep passengers informed and empowered at every stage of their journey.
By integrating with the reservation system and using information stored within the PNR, automating via the 15below platform allows airlines to treat every passenger as an individual. This takes the burden off operational teams as passengers are proactively given everything they need.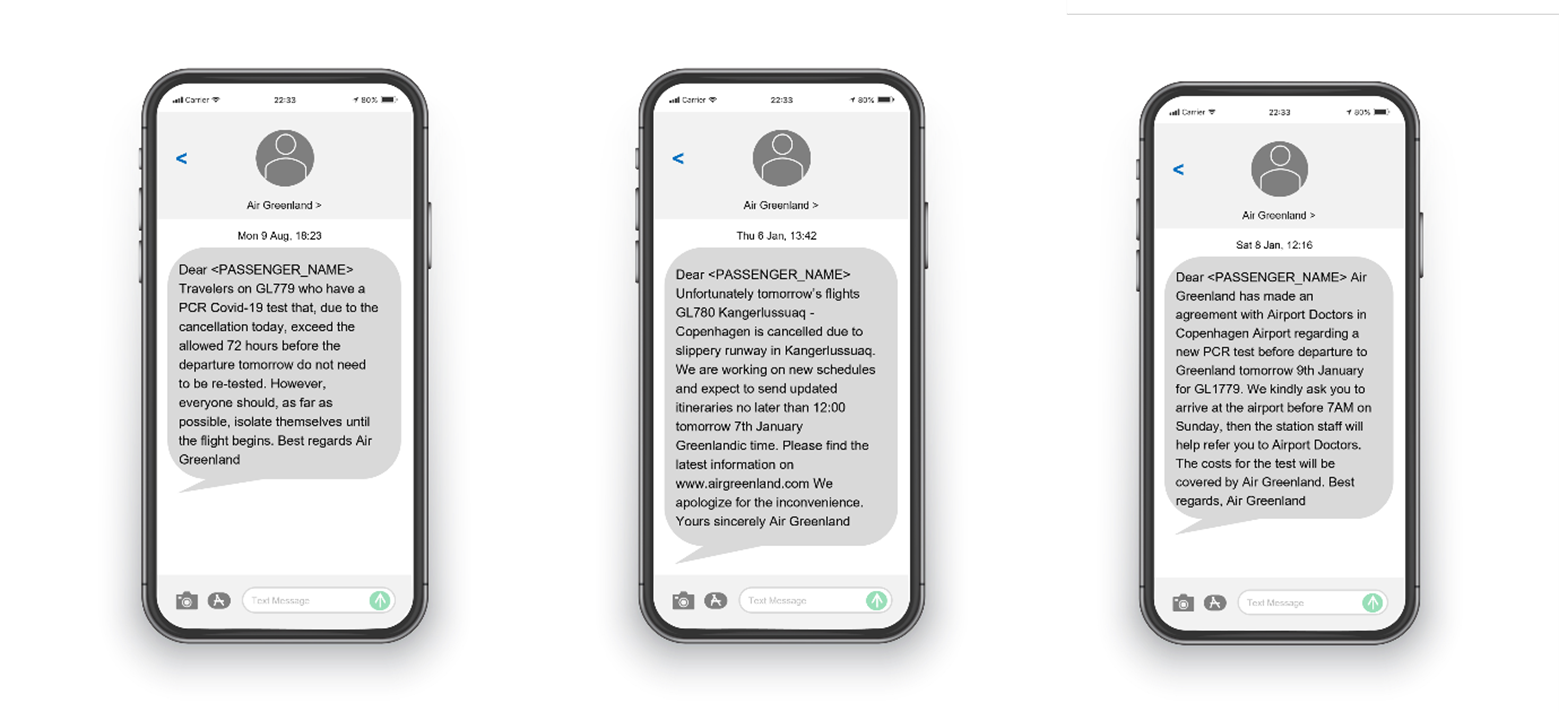 JetBlue also delivers a best-in-class customer service by automating:
Disruption notifications, requesting acceptance/offering other solutions and following up if the customer does not respond. 
Flight status updates, including terminal changes, baggage reminders, gate information and more to reduce crowding and stress at the airport.
An apology for delays and cancellations and sending credits for future travel.
When the carrier first started automating its operational communications, JetBlue saw an increase of more than 100 points to its net promoter score (NPS) taking it to +29.8 due to improved communication. You can read the full case study here.
And the ROI on automating passenger communications is impressive, particularly if you have received any fines during the pandemic for communicating incorrect information to passengers. Take 20 minutes to watch our webinar on the new role of pre-departure communications where we talk more about the ROI for automation.