07 October 2021 | News
Passenger communication trend shows signs of travel industry recovery
Passenger communications experts, 15below, have revealed key signs of industry recovery as numbers of notifications sent to travellers have more than doubled since May, and are even 15% over the volumes sent pre-pandemic.
15below has been sending communications on behalf of some of the world's best-known travel brands, including Ryanair, British Airways, Qantas, and Etihad for more than 20 years. The unique automation platform is used every day by airlines, rail firms, and travel management companies to keep their passengers informed at every stage of their journey with automated, hyper-personalised notifications.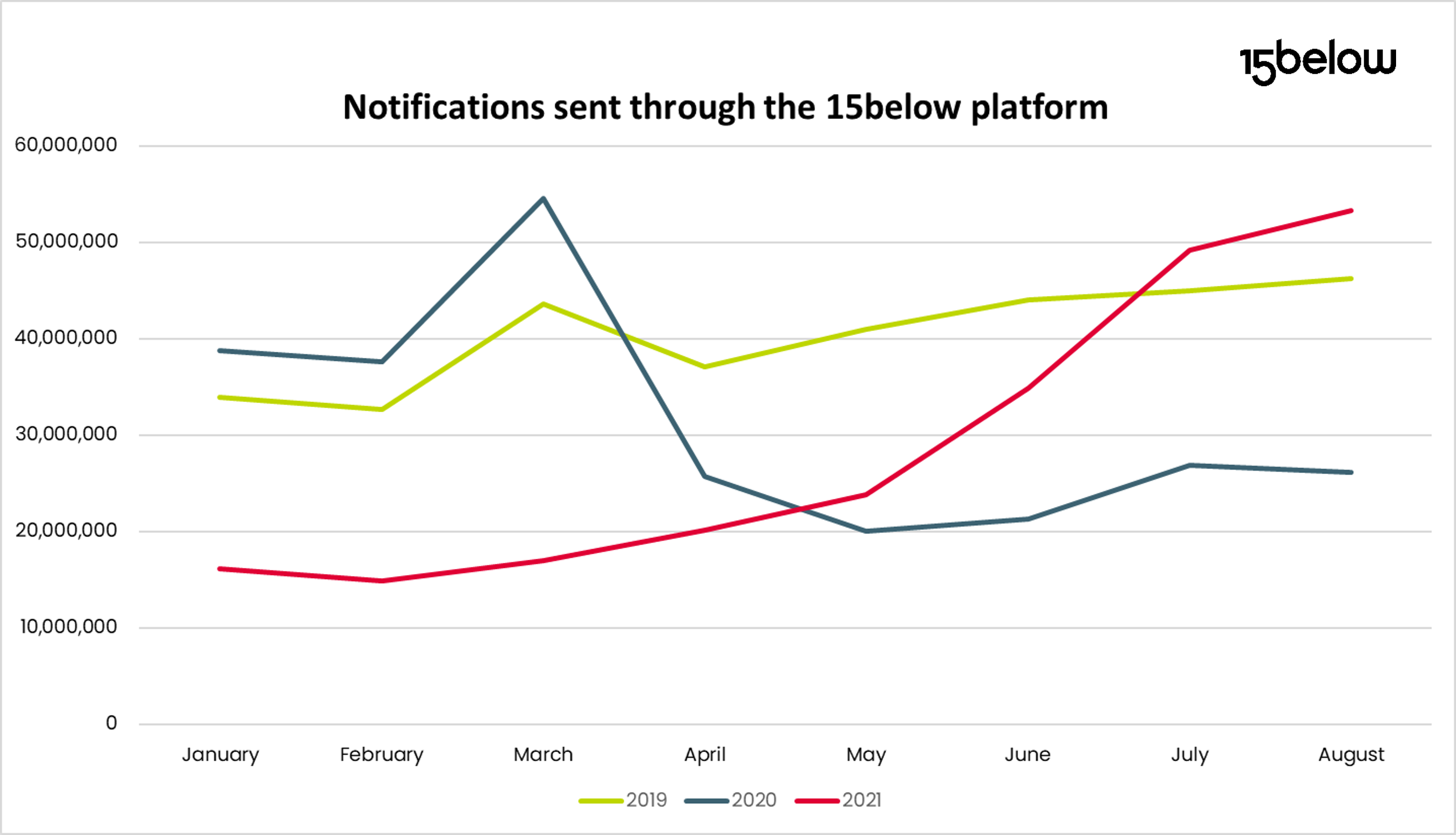 Communications sent through the platform via a number of channels including email and SMS were at a 2021 high of 53.2 million in August – 123% higher than the 23.8 million sent in May which is when platform figures started to show a significant rise as travel bans around the world began to ease.
While it shows an exciting trend, these figures also demonstrate a significant shift in focus on customer experience within the industry as a whole, as travel brands commit to keeping their passengers informed and empowered at a time when confidence in travel is at an all-time low.
15below CEO Nicholas Key believes that notification volumes are on the rise for a number of reasons:
"While it's fantastic to see such a positive sign of recovery, the figures that we're seeing from the 15below platform can also be attributed to a number of factors, including some big brands like Air Canada and Aeromexico beginning to work with 15below to improve customer experience, travel companies in general seeing an increased desire from passengers to be kept informed - particularly during times of disruption - and a plethora of new mandates and requirements that airlines must inform their passengers of."
One such example of mandates that airlines are being forced to comply with is an order from the Centers for Disease Control and Prevention which is insisting that every passenger completes a health attestation before travelling internationally into the U.S.
Failure to ensure compliance with such requirements is costing airlines not only in fines, but huge queues at the airport, contact centre waiting times of more than seven hours, and the loss of repeat business associated with passengers being denied boarding and sharing their negative experiences across social media.
Key continued:
"Travel companies have seen that passengers are not prepared to put up with being kept in the dark. The travel experience is far more complicated and stressful than ever, and travel brands are recognizing that they need to take responsibility for the end-to-end journey – from booking to arrival and beyond – if they want to keep their brands and customer loyalty figures intact."