17 June 2020 | Blog
A second lockdown in Beijing is announced – are you ready for what comes next?
What we all feared has now become a reality as a second spike in COVID-19 cases in Beijing mean flights to and from the city are suspended again.
The big question is: Were you ready? And if it hasn't affected you directly yet, are you prepared for when it does?
Of course, none of us can say we've been entirely ready for anything COVID-life has thrown at us: There's only so much planning you can do these days before something else changes. But some travel companies are standing out from the crowd when it comes to proactive measures to drive recovery.
A recent survey of US passengers revealed that full-service carriers, already renowned for their dedication to customer experience, have the trust of passengers at the moment. Only 12% of respondents felt that they could trust low-cost carriers to keep them safe.
Which airline do you trust most to keep you safe from COVID-19?
Southwest Airlines - 23.16%
Delta Airlines - 20.24%
United Airlines - 17.50%
American Airlines - 15.78%
Alaska Airlines - 7.38%
JetBlue - 7.03%
Hawaiian Airlines - 3.60%
Allegiant Air - 1.89%
Frontier Airlines - 1.89%
Spirit Airlines - 1.54%
Source: Travel Daily News
 
Apart from being full-service carriers, one thing all these brands have in common is the level of effort they're making to communicate about the measures they're putting in place to convince passengers they are safe to fly with.
They're making it clear what they stand for, making their efforts newsworthy. They are also using frequent communication themselves – via both mass-marketing channels and direct notifications – to help them stand out for all the right reasons.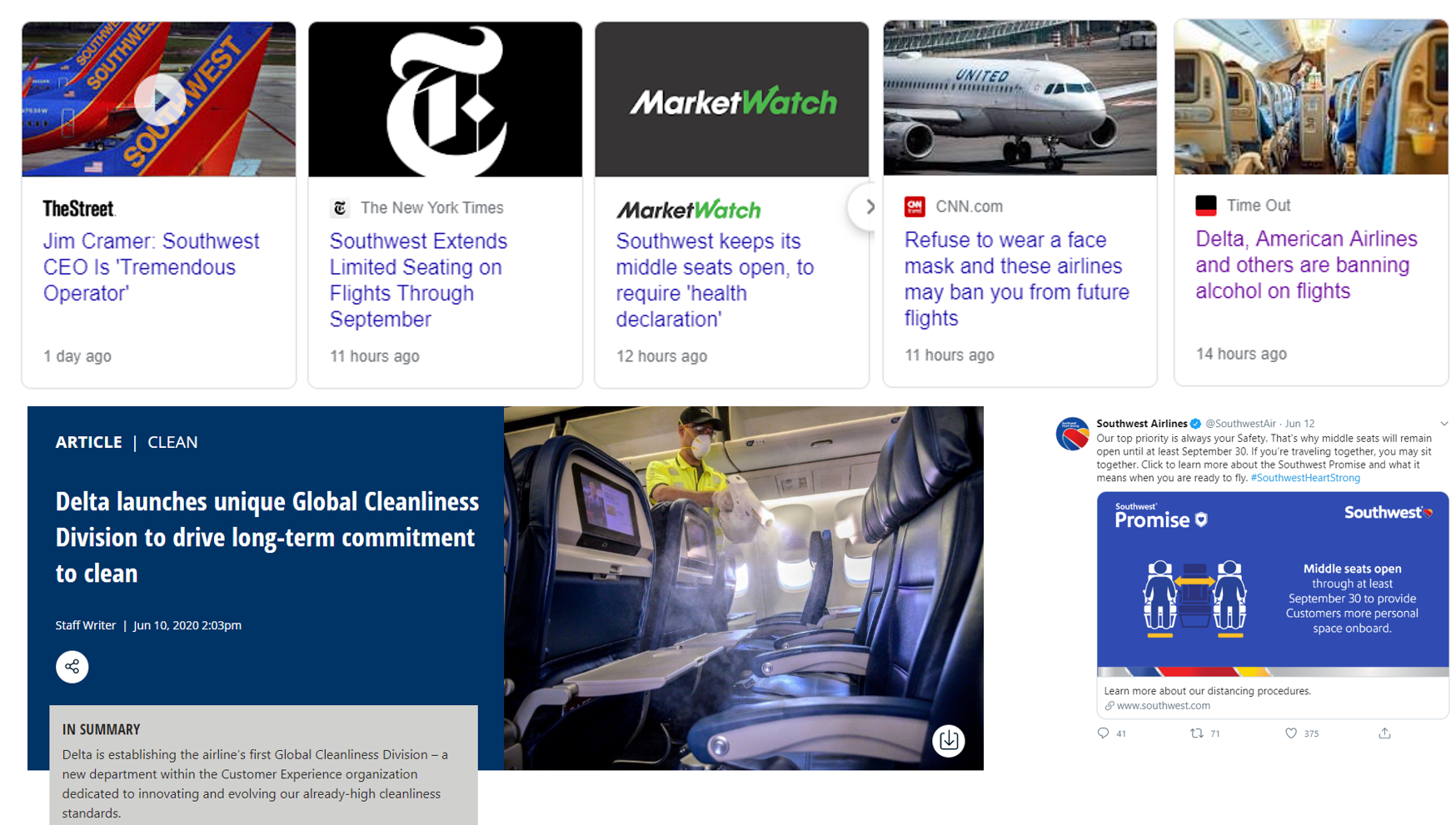 Passengers think you're doing a good job, but that you could do more
It's an incredibly disheartening time for anyone in the travel industry. Revenue is through the floor, teams and budgets are depleted, and just as things show signs of improvement, the industry takes another hit.
But travel will pick up again. The demand is there with 93% of respondents to another recent survey saying they're confident the industry will still be here after the pandemic is over and 69% saying they plan to travel again when it does. 
74% say that just thinking of travelling again is keeping them going during lockdown.
And a bit of positive news is that consumers do feel airlines have responded well to the situation, with 77% saying that the industry is doing a great job considering the circumstances. However, 88% of those surveyed still said the travel industry needs to be more flexible in dealing with changes and cancellations. 
But you can't forward-plan…or can you?
More so than ever, being prepared for every eventuality in business is close to impossible. There are more and more unknowns complicating things every step of the way. But keeping your customers happy – by keeping them informed and empowered – during times of increased fear, anxiety and confusion is one thing you absolutely can be on top of. So next time we see a spike in cases and passenger confidence takes an inevitable nose dive, you can be ready to act, with little stress for everyone involved.
Now is your chance to get it right
As changes, refunds and cancellations show the potential of rising again, and if you (or your passengers) feel you didn't get it right the first time around, now is your opportunity to get it sorted. One thing that is guaranteed is that with COVID-19 showing no signs of going anywhere anytime soon, customers are not going to be so forgiving as time goes on, so you have a limited time to get ready.
Some airlines hit the mark first time and there is so much you can learn from them now. During March and the first part of April, we saw the 15below platform being extremely heavily used to process cancellations, refunds, vouchers and re-accommodation on behalf of our customers worldwide. Overall notifications sent increased on average by over 250% per airline - leading us to process nearly 55 million cancellations in March alone.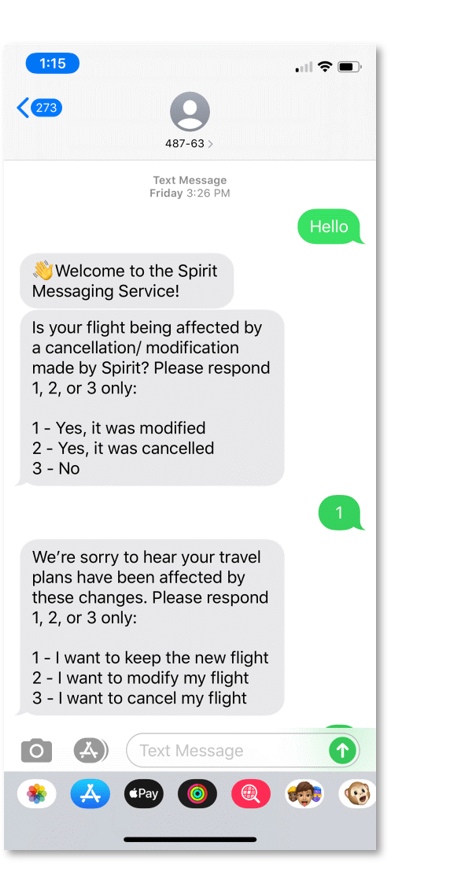 And a review on The Points Guy by a real Spirit customer shows what happens when you get it right.
This is Spirit's process:
1.    Send 'large-change' notification to passenger (that was us!)
2.    Encourage 'Click to cancel your flight and obtain a reservation credit. Or, review online FAQ for additional options, including a refund.'
3.    Offer two-way communication via SMS or WhatsApp with chatbot.
4.    Offer a full refund, or a reservation credit + $50 voucher.
5.    Send same-day confirmation and refund.
And this is the result:
"Spirit Airlines' refund process was painless. There were no hoops to jump through, no funny fees involved, no long hold times, no mind-numbing hold music, nothing but a straightforward process. Taking apart trips you were looking forward to is sad, but it helps tremendously when the process is this simple."
Get ready for what comes next
Now that this is headline news, speed is key to communicating your plans with your passengers. And because it can be implemented in as little as three days, the out-of-the-box version of our platform is ideal for many airlines facing this latest obstacle. It's a turnkey solution that requires some simple information from you to get started, then once in place, just one person within your organisation will be able to reach up to 100,000 passengers every hour with 100% accuracy and reliability. With nothing to lose except your hard-earned reputation, we encourage you to get in touch today.
You can request a short recorded demo of the platform here, or get in touch to ask any questions and get started right away.