12 August 2020 | Blog
A review of JetBlue: What has the airline done to stand out amid the covid-19 crisis?
A report by Forbes last month ranked the best and worst airlines in the U.S. based on their response to the COVID-19 crisis. The categories included in the review were cleaning, ticketing, loyalty, and overall, and one carrier that consistently stood out as a top performer was JetBlue.
JetBlue has been a customer of ours since 2009, and we're particularly proud of the partnership we have with the airline because of its constant drive for improvement through innovation. So, we thought we'd look at some of the areas of focus that have brought JetBlue out on top during the toughest period the industry has ever known, to maintain its reputation as a well-loved and respected airline.
Terms for changes to travel plans
When it comes to changes and cancellations, JetBlue has been incredibly fair from the start, being one of the first airlines in the US to introduce COVID-19 related fee waivers. If a passenger books a new flight between 15 October 2020 and 27 April 2021, fees will be waived if they change or cancel and they can book onto any other scheduled flight. 
For voluntary cancellations, the amount will be refunded as a JetBlue Travel Bank Credit which can be used for future travel to any JetBlue destination and for any traveler. If the flight is cancelled by JetBlue passengers can choose to:
Travel on the next available JetBlue flight at no additional charge.
Receive a JetBlue Travel Bank Credit.
Receive a refund to the original form of payment.
This tweet from a happy customer says a lot – JetBlue was fair and made the experience easy and stress-free. By enabling the passenger to deal with customer services via a channel that suited her, the result was an empowered, satisfied, loyal customer that has shared her positive experience with her network. 

Safety & hygiene
JetBlue has been clear from the outset on where it stands with regards to safety. 
Face masks
The airline has mandated the wearing of face coverings and has recently announced it will no longer allow masks with breathing valves on them as the U.S. Centers for Disease Control and Prevention said they may protect the wearer but do not prevent the spread of the coronavirus to others.
It is also no longer allowing medical exemptions to the rule, saying: "Our policy is meant to offer the strongest level of protection for everyone given all that we currently know about how COVID-19 is transmitted." While this may seem strict, the airline is taking a strong stand to show it's taking the safety of its passengers seriously – a wise move considering a lack of passenger confidence is what is holding back the industry's recovery.
The middle seat
The low-cost carrier is one of the only airlines that has committed to keeping the middle seat vacant for so long. Unlike United Airlines and American Airlines, JetBlue is blocking the middle seat until 15 October to enable social distancing between passengers that are not travelling together. It is also blocking all aisle seats on 2-2 configuration aircraft.
United and American are allowing passengers to move to another flight if capacity is high, but JetBlue is taking the stress away from its passengers on this front and giving them peace of mind from the outset.
Onboard
To "minimize physical transactions and service touchpoints", the airline has temporarily replaced its standard food and beverage service with a pre-sealed bag containing a bottle of water and snacks. A review by a JetBlue passenger showed that the carrier has made efforts to go over and above many of its competitors, saying: "Though it was a far cry from JetBlue's normal snack and beverage offering, it was more than what some of the major airlines were offering on flights of a similar duration." This is the sort of detail that brings passengers back as it shows that safety and comfort have both been considered.
Other safety and hygiene measures
JetBlue has brought in a long list of measures designed to instil passenger confidence in the airline:

-    Temperature checks for customer-facing crew
-    Paid time off to ensure crew don't work if unwell
-    Disinfectant kits for crew
-    All crew wear face coverings at all times in the airport and on board the aircraft
-    Regular disinfecting of surfaces in the airport
-    Personal protection packs for passengers
-    Increased aircraft cleaning before every flight and overnight
-    Filtering cabin air through hospital-grade HEPA air filters
-    Mandatory completion of a health declaration form
-    Touchless check-in, bag-tag printing, and self-scan of boarding pass within the app
-    Back-to-front boarding
-    Using a personal device as a remote for seatback screens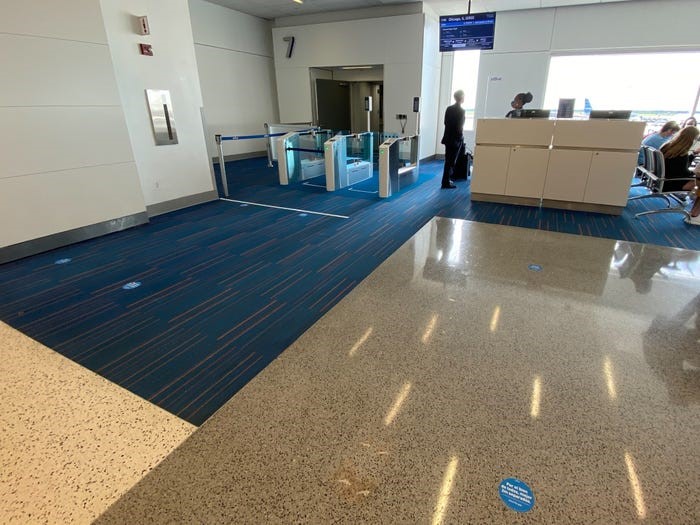 JetBlue's biometric self-boarding gates (Source: Thomas Pallini/Business Insider)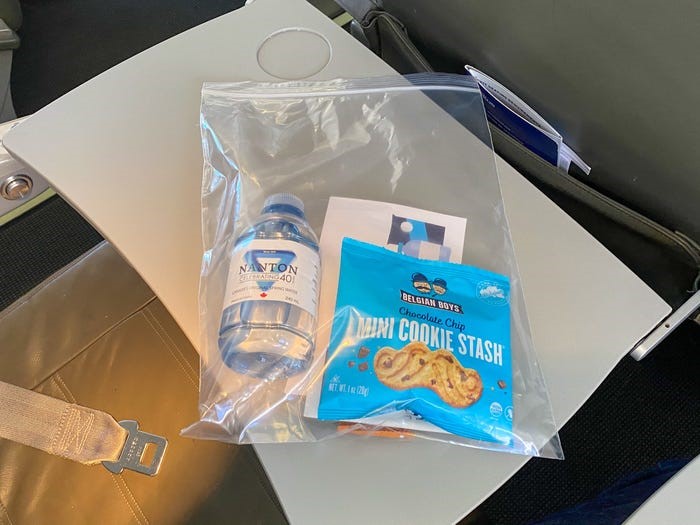 Pre-sealed snack and beverage packs (Source: Thomas Pallini/Business Insider)
Communications
When it comes to passenger communications, JetBlue has always put a lot of effort into keeping its customers informed and empowered, whilst adhering to its 'Customer Bill of Rights'. Using 15below's three most popular solutions – disruption, flight status, and queue manager, it is able to:
Automate communications in real-time to inform passengers of changes to their flight schedule, provide relevant options, and send follow-up notifications if the passenger doesn't respond.
Communicate relevant details to ensure navigating the airport is as stress-free as possible, including terminal changes, baggage reminders, gate information and more.
Provide critical, destination-specific information, rules and regulations pre-flight.
Offer two-way communications that add passenger decisions and remarks back onto the booking to keep everyone up to date.
Push real-time flight alerts directly into the JetBlue App.
As soon as JetBlue put its new communication strategy in place with 15below, the airline saw an immediate uplift in customer experience scores and satisfaction levels. Positive, proactive communications sent at the right time and via the right channel saw the carrier's Net Promoter Score increase by more than 100 to +28.9.
And when an airline goes above and beyond like this, to take the stress away from the passenger, this is the result: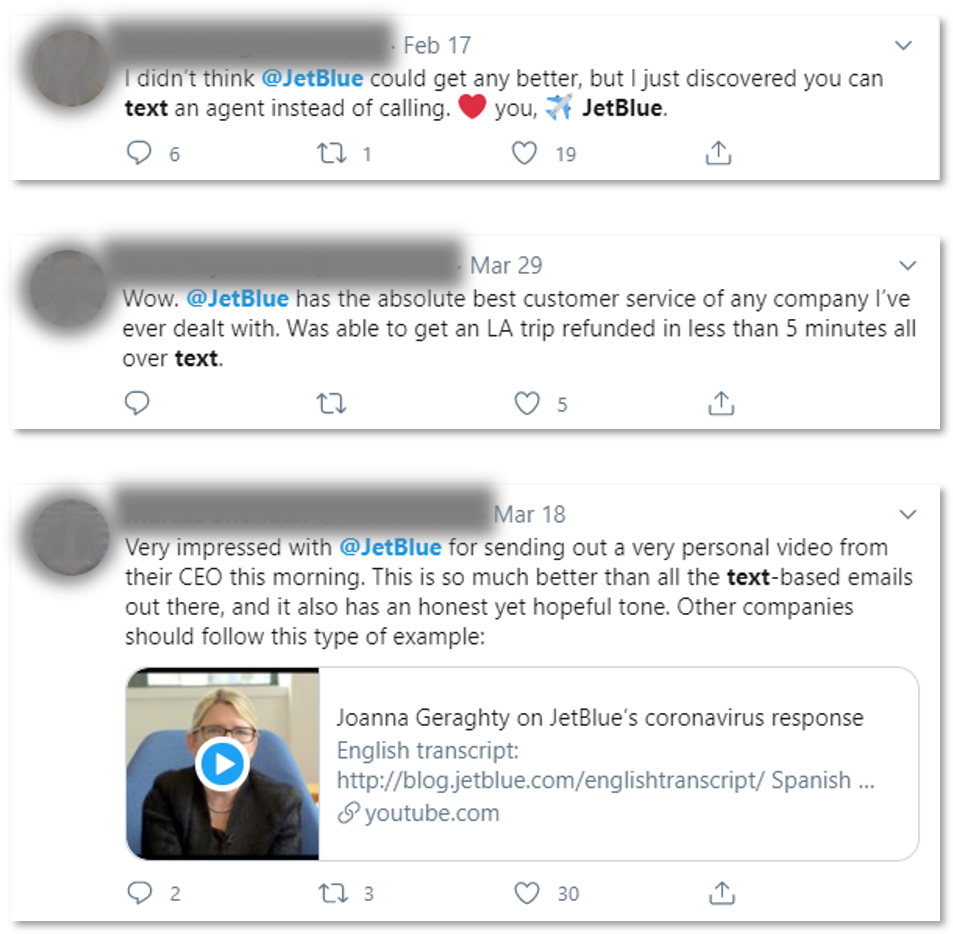 This is what JetBlue's Manager of Customer Experience has to say about her experience of working with 15below:
"We have worked with 15below for many years and it has proved to be a fantastic partner for our business. 15below's platform allows us to communicate with our customers in a variety of ways exactly when they need to hear from us and has led to improved communication with our customers, especially when unexpected travel disruptions occur."
Lori Fox, Manager Customer Experience Operations Centre, JetBlue
If you would like to talk to us about how you could update your communications strategy to put you ahead of your competitors during these times of high-stress, get in touch today. We can get you set up on the 15below platform in as little as 72 hours, so you can start informing and empowering your passengers within a matter of days.