20 July 2020 | Blog
Refunds or vouchers?
Since the start of the COVID-19 crisis, we have been working with dozens of airlines within the 15below customer community to help process millions of cancellation notifications and unprecedented volumes of refunds and vouchers. 
While governments around the world have been obligating their airlines to pay out refunds for cancelled flights, our customers have used proactive communications to encourage passengers to take vouchers, in a bid to retain as much revenue as possible. We have found that by offering passengers a choice, and making the fulfilment of vouchers and refunds as simple as possible, airlines have been able to improve their passengers' experience despite everything, offering them peace of mind and boosting confidence and loyalty.
And now, with recent news that the UK's ATOL protection scheme will cover vouchers for package holidays cancelled as a result of the pandemic, we anticipate even more vouchers being issued as passengers look to get the most return, with many providers offering additional value in return for accepting a voucher.
So, if you're looking at how to improve your processes around refunds and vouchers, here are our thoughts on the topic:
Refunds
We recently released an eGuide called The cost of Silence: Why travel companies can't afford to stop communicating during the COVID-19 crisis. In it, we talk about refunds and how holding on to a passenger's money against their will – while it may seem like a good solution to limited cash flow in the short term – is not going to promote long-term customer loyalty.
So, we were really pleased when we saw a review of a refund process that we were involved with for Spirit – a customer of ours since 2016 – that can be carried out via SMS or WhatsApp and results in money being returned on the same day. 
Using the 15below platform, Spirit uses advanced filters that finds all affected passengers and sends notifications of major flight changes via multiple channels, to inform and empower them to choose what they want to do next. Spirit then manages the refund via their website.
In an article for The Points Guy, Summer Hull's review talks of a faultless process offered by Spirit, saying:
"Spirit Airlines' refund process was painless. There were no hoops to jump through, no funny fees involved, no long hold times, no mind-numbing hold music, nothing but a straightforward process. Taking apart trips you were looking forward to is sad, but it helps tremendously when the process is this simple.

"While it can be quirky, I already kinda loved flying Spirit Airlines for certain types of trips. This simple process solidified that I'll 100% be a return customer when it's again time to plan leisure trips to destinations such as Las Vegas, Orlando and beyond."
But that's not to say that refunds are your only option. Summer Hull also said in her review that the alternative option of a flight voucher plus an additional $50, "normally would be pretty tempting as $50 can go a long way on Spirit." 
And it's important to remember that there are plenty of passengers out there who would appreciate this option. 
Which brings us on to vouchers…
Vouchers
Over the years, we have set up some very successful voucher systems for customers including British Airways, Qantas and Frontier. They have enabled airlines to keep cash within the business for much longer, and many airlines are now coming to us for advice on how to make the most of these schemes during a period of incredibly tight cash flow. Here are three ways in which travel companies can make the most of the relationship with passengers who hold vouchers.
1.    Reduced cost ancillaries 
Promoting enhanced value through ancillary partners is a great way to provide the experience many passengers will be craving once they can travel again (also something we talked about in our latest eGuide – The cost of silence). Work with your ancillary partners to generate unique offers and enhanced value, which you can promote to those customers with vouchers to incentivise them to book.
2.    Targeted promotions
The 15below platform is integrated with more than 100 systems and we keep a full audit of any amendments we make to a PNR. This means that we know exactly who we have issued vouchers to on behalf of our customer and are setting up triggered, automated campaigns to target these passengers with personalised offers. The increased relevance for each customer will have a significant impact on your engagement rates – and revenue generation as a result.
3.    Turning vouchers into frequent flyer points
North American carrier Frontier Airlines – a 15below customer since 2010 – ran a promotion to allow customers to turn vouchers into frequent flyer points with an uplift on the value of the voucher for doing so. These points can be redeemed in multiple ways, including on future travel and gift flights, or on non-travel options such as shopping vouchers, sports games, and cinema tickets.
As well as keeping the money within your airline (or partner network), it makes the passenger feel like you're saying "thank you" for their cooperation, while also enabling them to choose from a greater range of options.  
Both refunds and vouchers have their merits, but the key in all of this is choice. Empower a passenger to take control of their situation and you will benefit in the long term. On the other hand, make it difficult for your passengers to reach a result they're satisfied with, and they won't be shy to share their feelings with their social networks.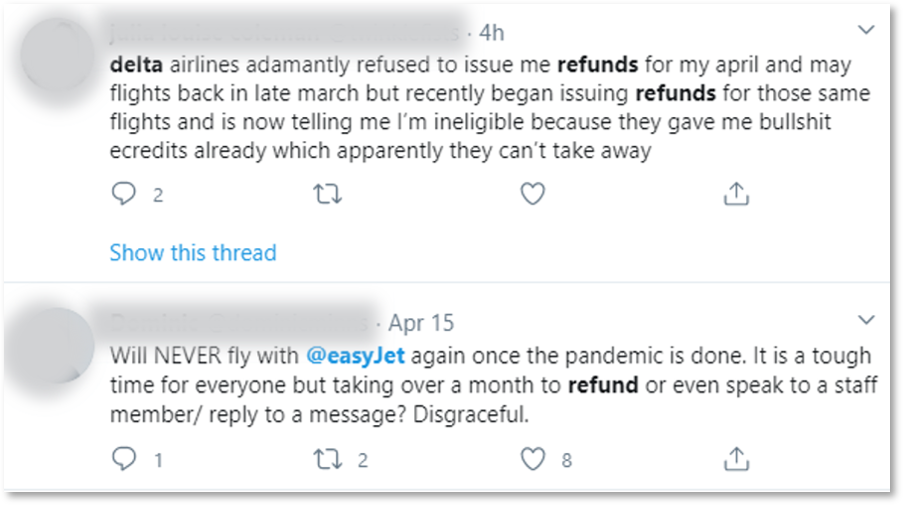 If you'd like to know more about anything detailed above, don't hesitate to get in touch and we'll help you work out the best option for you – and your passengers.