13 July 2020 | Blog
6 steps to stress-free schedule changes
A year ago we would look at where we wanted to go, book the flight, and nine times out of ten we'd get there as planned. Fast-forward 12 months and booking a flight feels uncomfortably similar to placing a bet, with the odds changing day-to-day. Airlines are selling in the hope that they'll be able to deliver, while passengers are committing with little guarantee that the journey will play out as hoped.
The number of unknowns airlines face these days – from border closures to new quarantine rules – are making it almost impossible to keep on top of fluctuating demand, cancellations, and ever-changing flight schedules. 
Last-minute bookings have more than doubled from 18% in May 2019 to 41% this year (source: IATA), playing havoc with airlines' ability to forecast. 
Spikes in COVID-19 cases in Asia and North America are causing unexpected border closures and yet more cancellations. 
Changing government policies and regulatory conditions in different countries are forcing airlines to cancel.
It's chaotic, to say the least. 
But while unplanned schedule changes are likely to be a fact of life for some time, there is a way to keep control of the situation. You can relieve pressure on your operational staff, give your customers a positive experience, and manage your reputation, despite all the challenges you face. In fact, it might console you to know that the airlines in our customer community are currently managing IROPS in the same way that they were 12 months ago.
In 2002 we started helping Ryanair manage the communication of large numbers of schedule changes with its passengers, and after nearly two decades it has become a core solution that many of the world's best-known airlines – including British Airways, Cathay Pacific and Jetblue – rely on.
So, while it all may feel completely out of your control at the moment, there is a way for you to be prepared and to keep your customers calm and connected. 
Our customers only need one person to follow six steps using the 15below platform that allow them to manage any unplanned schedule change - no matter the size or urgency – and keep their passengers calm, informed, and empowered.
It begins with six key questions…
1.    What event will trigger a notification to be sent? 
2.    What will trigger the process to start?
3.    What filters and business rules need to be applied?
4.    Who needs to be notified?
5.    Which channels will be used?
6.    What does the outcome need to be?
Here's an example of how it works in real life:
The situation
Barbara is due to fly from London Heathrow to Lisbon tomorrow at 4pm, but a spike in COVID-19 cases in Lisbon has resulted in borders being closed. The airline becomes aware of this at 1am on the day Barbara is meant to travel.
1. The event
Barbara's flight has been cancelled.
2. The trigger
The airline calls the 15below API with flight event information (using a FLIFO feed or similar). 
3. The filters and business rules
The cancelled flight will be communicated to staff first, then Barbara and all other passengers, and subscribers. 
The estimated time of departure is not for another 15 hours, so while the event was triggered at 1 am, Barbara will not be notified (by "disruptive channels") until the morning, to avoid unnecessary stress. 
4. The recipients of the notifications
The 15below platform retrieves the flight manifest containing all affected PNRs, meaning Barbara cannot be missed.
Barbara's friends who were waiting to greet her in Lisbon have subscribed to updates for that flight via the airline's website and these details are sent to 15below via the API.
A list of all affected staff is accessed by 15below, and business rules have been set so that they receive updates in real-time, with no delays.
5. The channels
As the flight was due to depart within 24 hours, Barbara will be notified by email and SMS. The email is sent just after 1 am, at the time of the event trigger, while the SMS will be held and sent at 8 am – a sociable hour, but giving Barbara plenty of time to read her email and act. 
6. The outcome
The airline books Barbara onto another flight. The re-booking tool places her PNR on a queue in the reservation system, which is automatically detected by 15below, triggering the send of reminders across different channels until Barbara accepts. 
15below then updates the booking, re-validates the ticket, confirms the segments, remarks the booking, sends Barbara a confirmation and removes her PNR from the queue. If Barbara does not accept the re-accommodation solution, she is directed to a self-service portal such as Manage my Booking or self-service tools from Amadeus where she can choose another option.
In this situation, the airline just needs to manage its operations and the re-booking tool. Everything else is triggered, processed and reported on automatically. No long, expensive call lists for the airlines and no stress for Barbara. 
The key is automation
We calculated that an average airline carrying 10 million passengers a year that manually communicates schedule changes to its passengers has to make around 720,000 phone calls every year - and that's just planned changes! Once you take IROPS into account, an airline will be spending more than $1.5 million every year handling disruption manually – a cost that can be dramatically reduced with automation.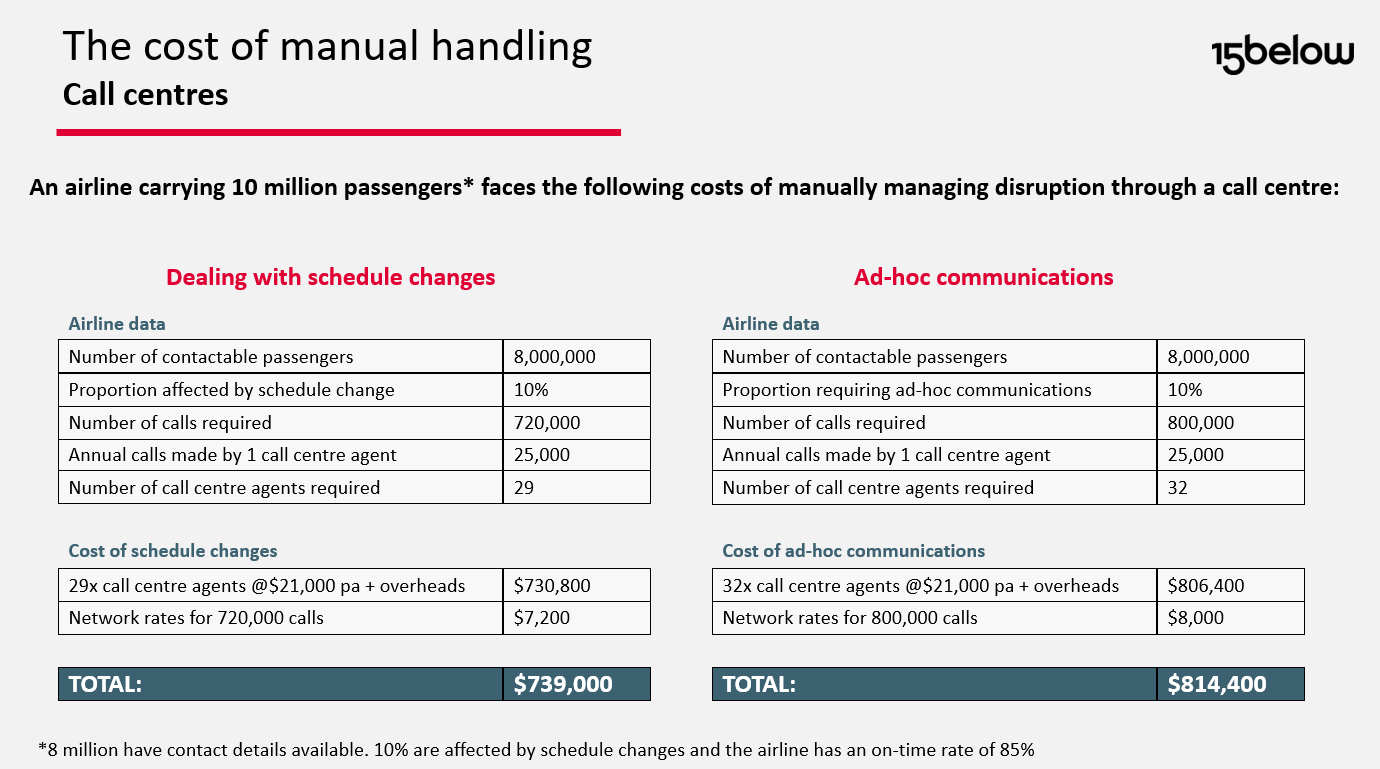 Also, consider the experience you are giving your customer by simply sending them the right message at the right time – the confidence you will give them to book with you again in future is priceless. 
Can you afford to get it wrong?
Take a look at this infographic to see how automation allows airlines to manage schedule changes with less time, stress, staff and cost.
If you want to take control of unpredictable schedule changes take a look at our Flight & Travel Status solution here, or get in touch to speak to one of our passenger experience experts.