20 April 2021 | Blog
Preventing choice paralysis during acts of disruption
During the booking process, travel companies know that offering too much choice is often counterproductive and results in a reduction in bookings. Having to make too many decisions simply overwhelms the customer, and operational teams should also consider this when reaccommodating passengers during acts of disruption.
Overchoice, or choice overload, occurs when too many options are available and making a decision becomes overwhelming due to the many potential outcomes and risks associated with making the wrong choice. The result of this is choice paralysis – i.e. no decision is made at all.
We think we want choice. We feel that choice is a luxury and that it gives us control, but research has proven that being faced with fewer options actually enables us to make better decisions and makes us feel good about the choices we've made. 
Personalisation is used to overcome choice paralysis during the booking process
Your eCommerce department will have found a way around choice paralysis during the booking process by personalising options and making recommendations based on what they know about the passenger. For example, making the ancillary solutions that are most suited to each passenger most prominent not only improves the user experience, but also drives increased conversion rates. Other industries also do it particularly well (think, "Because you watched X you may like Y" on Netflix and "People who bought X also bought Y" on Amazon.)
Personalisation is also vital during acts of disruption
When it comes to keeping passengers empowered and in control during acts of disruption, less is more. Travel companies should help customers make the right decision by guiding them towards the best option for them.
Research shows that when customers are in crisis, they want a simple, straightforward service with quick access to an empowered human problem solver because when we're stressed, decision-making becomes infinitely more difficult.
If the experience is simple, most people want to self-serve
Of course, we all know that quick access to a human when things have gone wrong would be the ideal solution, but when thousands (or even millions thanks to the COVID-19 pandemic) of passengers are all impacted by disruption simultaneously, this is almost impossible. And in fact, offering passengers an efficient self-serve solution in that situation is likely to be preferable as the same research shows that 62% of people want to do simple things via a website or an app, and only want to call for more complex issues. 
So, if you can keep the experience simple, your passengers will gladly sort themselves out and won't feel the need to call your contact centre.
Ryanair uses automation to communicate with passengers with cancelled flights 
Ryanair has been partnering with 15below to manage their disruption communications for more than 20 years. Over the past 12 months, they have utilised the 15below platform to generate 89 million notifications to their customers.  The pandemic has resulted in a high volume of flight cancellations and reschedules, often with very short notice and specific to regulations by country. Ryanair has felt the strain, however, its partnership with 15below has helped the team there to remain calm under pressure, safe in the knowledge that all customer notifications would be processed in the usual way, no matter the volume.
Where possible, Ryanair provides its customers with alternative flight options when performing cancellations. The new option is presented dynamically to the customer in the 15below notification with the following options:
Change flight for free.
Re-accommodate via alternative transportation.
Cancel with reimbursement.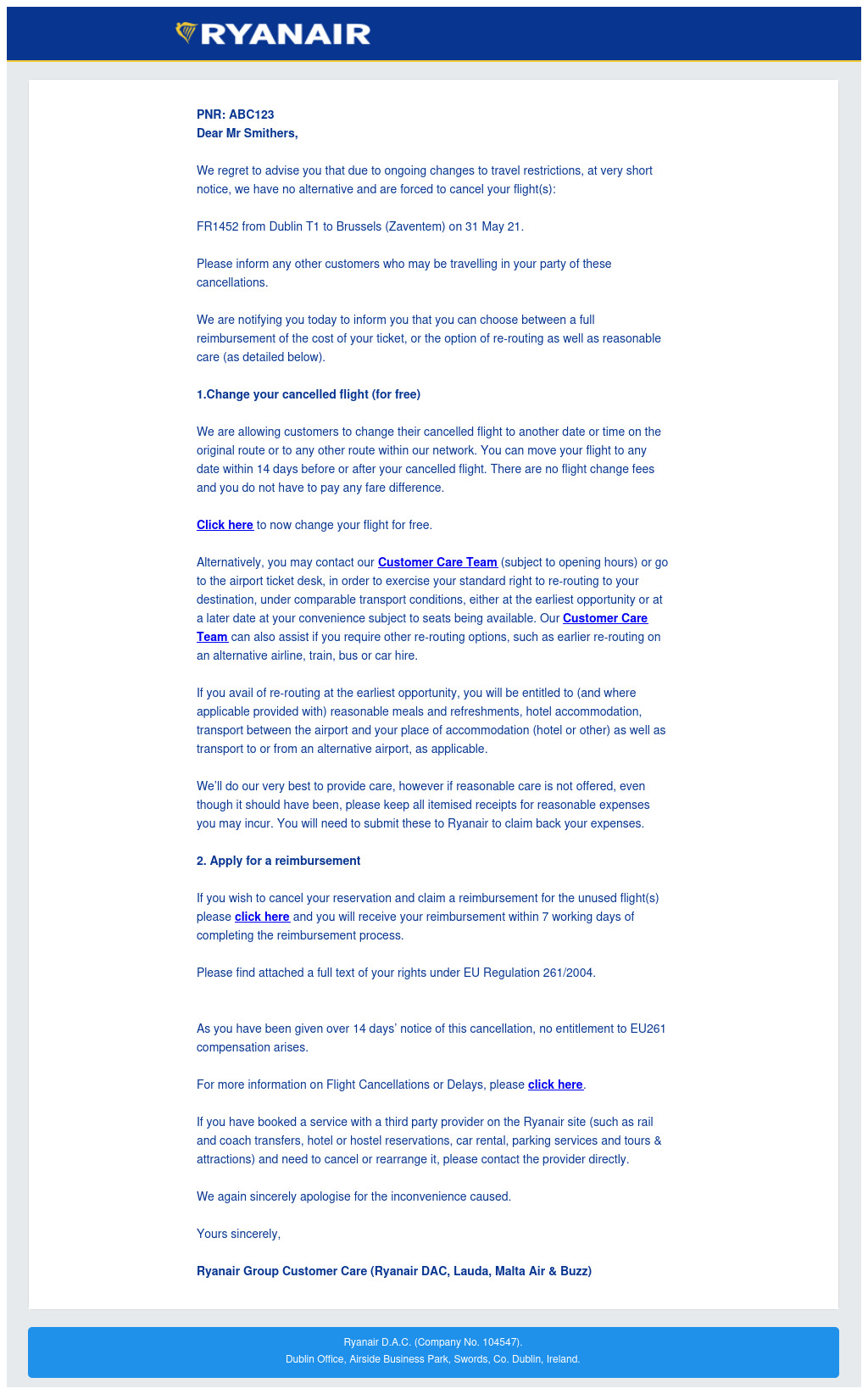 Ryanair cancellation notification
The 15below platform allows Ryanair to:
Quickly and efficiently send high volumes of notifications with no impact on processing speed. 
Easily manage double the volume of notifications typically sent during a year – particularly as we don't charge per email sent.
Significantly reduce the time and resource required to send communications vs. manual processing.
Send via multiple channels to ensure optimum reach with customers.
Free call centre agents from manual work, allowing them to perform critical and revenue-generating tasks instead.
Utilise two-way notifications to confirm itinerary changes, track and process refunds, and provide visibility throughout the business.
Provide a facility for passengers to opt for a reimbursement in the form of credit for future travel, with the automatic issuance of a travel credit voucher.
Ryanair's Customer Success Manager, Dave Wall says:
"I don't know where we'd have been without the 15below platform this past year. Being able to send 89 million notifications to communicate effectively with every one of our affected customers without having to change any of our processes was a huge relief at a time when our operational staff were under immense pressure. Whilst everything else seemed to change from one day to the next, 15below was unwavering in its support, and we knew they had our passenger communications covered." 
An airline with eight million contactable passengers could save nearly $1m every year by offering a simple self-serve solution.*
Although you may think you're giving your passengers freedom and control by giving them lots of options when things change, you are actually more likely to be causing unnecessary distress, and cost for your business. Get in touch with our passenger experience experts today to find out how you can set up an automated solution during acts of disruption that is used by airlines around the world including British Airways, JetBlue, Ryanair, and Cathay Pacific. 
*Source: 15below ROI calculator