02 September 2022 | Blog
Why consolidating suppliers can harm passenger experience
When companies in the travel industry need to cut costs, there is a tendency to look towards consolidation of suppliers. But is that the right option?
Over the last couple of years, there has been a trend of big businesses using vendor consolidation to cut costs and improve efficiency as the fewer suppliers an organization has, the fewer internal resources are needed to manage them. However, for companies in the travel industry there are also significant risks associated with this strategy. 
Developing the technology for airlines to deliver real-time, automated passenger notifications isn't easy. If anyone knows this, it's us! We've spent the last 22 years working with the world's leading airlines to learn exactly where their customers' frustrations stem from. We've used these valuable insights to craft and refine our advanced technology, in collaboration with our community of over 50 of the world's best-known airlines - to give their customers the ultimate passenger experience. During this time, here's what we've learnt from our customers about supplier consolidation:
There is no such thing as a 'one-stop-shop'
Here in the United Kingdom, we have a well-known phrase: "Jack of all trades, master of none". We use it to describe people or businesses that claim to do a lot of things, but don't have the skills to deliver anything to a high standard.  
When it comes to choosing suppliers, the same concept should be kept in mind. What is the benefit of choosing a single vendor that does many tasks, but all to a substandard level, when there are companies whose very existence is to deliver a niche service to the highest standard? 
At a time when revenue-generation is incredibly challenging, procurement teams around the world are being tasked with cost-saving instead. However, we believe that vendor consolidation is risky at a time when airlines need experts more than ever.
If you're thinking about supplier consolidation, consider the following risks and benefits:
Benefits of consolidating suppliers
Purchasing power 
Working with a single supplier increases your investment and therefore your value to that partner. The cost of losing your business will be too great for your supplier to risk, giving you more power to negotiate. 
Control
With fewer vendors to manage, you may have less admin and processes to follow and lower overheads dealing with multiple points of contact. Costs will likely be kept to a minimum as a result. This is a particular benefit if you have a small team that gets pulled away from valuable activities by menial admin tasks. 
Risks of consolidating suppliers
A superficial relationship 
Building a close relationship with customers is crucial for niche suppliers as it's the only way to get into the details of how the business works and what they need to succeed. Consolidating vendors may feel like it's creating efficiencies to begin with, but the relationship you have with big suppliers is likely to be more superficial than with a niche provider, and the output will be disappointing as a result. 
Loss of experience and expertise 
This is the "Jack of All Trades" argument. We all know that trying to do too many things will result in a substandard result. When it comes to choosing a supplier, you need those that know their strengths and have the subject matter experts that can focus 100% on fulfilling them. 
Lack of innovation 
By using suppliers skilled in their own nuanced areas, you will benefit from continuous product development and industry-changing innovations. The close community model that we have with our customers means that we are able to share knowledge and innovation between 50+ airlines that all learn from each other and benefit from each other's experiences. Regular communication with our customers via our Product Feedback Community (a series of forums, events and workshops) means our product development never slows down, so the solutions we build are always improving. 
When it comes to operational communications, what can you afford to give up? 
If you are considering a range of vendors to support your passenger communications strategy, you may find it helpful to use the following checklist to understand whether you will receive the level of support you need.
If you are choosing to consolidate your vendors, which of these features (if any) can you afford to give up?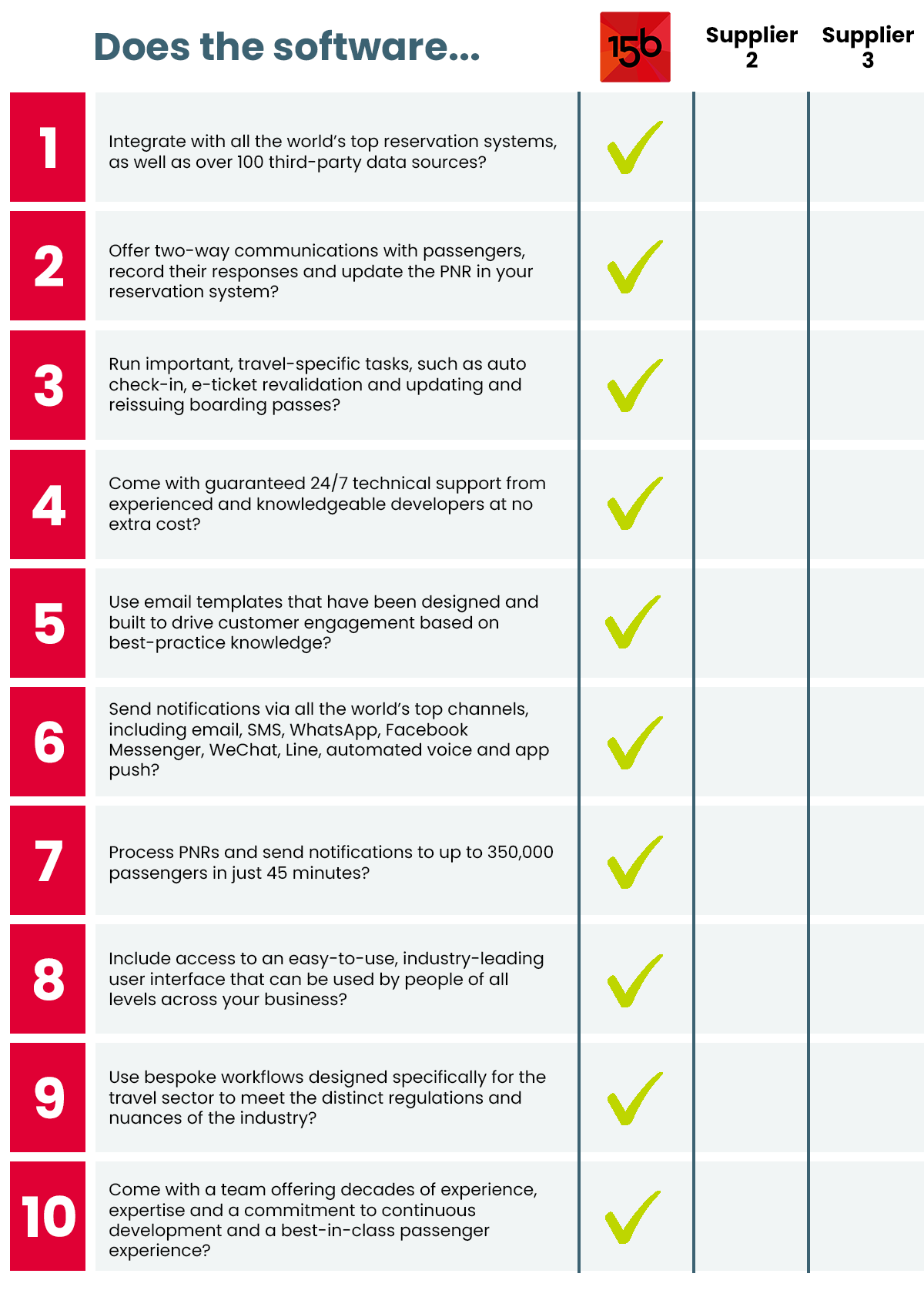 As with all industries, not all technology companies are created equal. So, you need to beware of suppliers that are "Jack of all trades, masters of none". 
Speak to us and find out what makes 15below the expert in passenger experience – and what drives more than 50 of the world's top airlines, including JetBlue, Qantas, Ryanair and Etihad, to choose to work with us.