10 December 2020 | Blog
Brexit brings yet more cancellations for Europe's travel brands
While it was probably to be expected, hearing today that British holidaymakers will not be able to travel to the European Union post-Brexit from 1 January 2021 is yet another punch to the gut for European travel companies.
In October this year, EU member states revised the list of countries with low numbers of COVID-19 cases that are allowed to travel to Europe, including Australia, Japan, New Zealand and Thailand. A spokesperson for the EU commission has since stated that there are no plans to add the UK to this list and Norway has already confirmed that UK citizens will not be allowed to enter without a negative PCR Covid test.
The news of the Pfizer/BioNTech vaccine going into mass-circulation in the first half of next year gave the travel industry a glimmer of hope as it brought about a sharp rise in searches and bookings for 2021. But, yet again, carriers across Europe will be forced to handle mass-cancellations and refunds as uncertainty continues to reign. 
We really feel for travel companies as the goal posts continue to be moved.
With a community of more than 50 brands around the world, we have learned a huge amount about what works and what doesn't when it comes to managing disruption in the new world. Here are a few pointers on what we have found during the toughest year on record:
Use technology to help you
Significant restructures within most travel companies over the last eight months means that subject matter experts have either gone, changed roles, or have too much on their plate to focus on anything fully. This is where brands like British Airways and the Lufthansa Group have excelled operationally this year: By using automation to manage customer communications – automatically sending cancellation communications at the right time and with the correct information – the airlines have been able to concentrate resource and budget on innovating rather than funnelling it into costly contact centres to handle millions of unsatisfied customers. 
Even with a huge peak of cancellations in March, British Airways was able to deal with disruption communications in the same way that they have always done. So even with depleted teams and budgets, the airline was able to keep its passengers informed and empowered with timely, relevant information at all times. Plus, with a set cost to use the 15below platform, the British carrier could notify all of its passengers with the peace of mind that it would not be stung with an unexpected bill even when notifications went up by 363%.
Take a look at our infographic that compares the time and resource required to fulfil customer communication obligations via an automated and manual approach.
Don't rely on the wrong tool for the job
If you tried to communicate news of cancellations with your passengers via a CRM or marketing system this year, you will likely have seen that the end result was sub-par. That is because these systems play a big role in the customer journey – but operational communications are a different beast and need to be treated in a very different way. 
When it comes to cancellations, having the right details is imperative to keeping passengers in the loop. If you have blanks in your contact details, or if you cannot link your communications platform directly to your reservation system then the likelihood is that your delivery performance will be much lower than if you were to employ a dedicated operational communications system. The 15below platform not only searches 17 different fields to find contact details, but it will also automatically search in other systems, like your loyalty database, and update incorrect information too. This is why our customers enjoy market-leading open rates as high as 78%.
Read more on using the right tool for the job in our blog post.
Refunds and vouchers
When it comes to keeping customers happy, we have found a huge part of this is timely, clear and honest processes around the handling of their money.
As we said in a blog post on the opportunities available to travel companies offering refunds and vouchers back in July this year:
"Both refunds and vouchers have their merits, but the key in all of this is choice. Empower a passenger to take control of their situation and you will benefit in the long term. On the other hand, make it difficult for your passengers to reach a result they're satisfied with, and they won't be shy to share their feelings with their social networks."
One of the best refund processes we were involved with this year was with Spirit Airlines that has been a customer of ours since 2016. Using the 15below platform, Spirit used advanced filters that found all affected passengers and sent notifications of major flight changes via multiple channels, to allow them to choose what they wanted to do next. Spirit then managed the refund via their website. The process looked like this:
Send large-change notification to passengers via the 15below platform using advanced filters and workflows to identify the correct customers and their relevant information.
'Click to cancel your flight and obtain a reservation credit. Or, review online FAQ for additional options, including a refund.'
Offer two-way communication via SMS or WhatsApp with a chatbot.
Offer a full refund, or a reservation credit + $50 voucher.
Same-day confirmation and refund.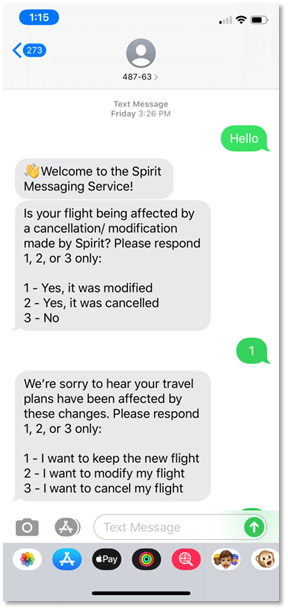 A review by a Spirit customer on The Points Guy shows what happens when you get it right:
"Spirit Airlines' refund process was painless. There were no hoops to jump through, no funny fees involved, no long hold times, no mind-numbing hold music, nothing but a straightforward process. 

Taking apart trips you were looking forward to is sad, but it helps tremendously when the process is this simple."
We've been working with some of the world's best-known travel brands for 20 years and every one of our customers has benefited from being part of a community where best practice is shared. If you would like to find out more about how we can help you process the next round of cancellations post-Brexit, get in touch. We have developed a product this year that will enable us to get you up and running within a matter of weeks, so it's never too late!
Request a recording of a short demo here if you'd like to know more. 
 
Other content you may be interested in