02 September 2019 | Case study
How TUI UK instantly increased passenger notifications from 35,000 to 3.5m with automation
An introduction to TUI UK…
TUI UK and Ireland is the UK's largest holiday operator with brands including TUI, First Choice, Marella Cruises, Crystal Ski Holidays and TUI Lakes & Mountains.
Its airline, TUI Airways, flies to 88 destinations in more than 30 countries and carries in excess of 10 million passengers each year. It also operates six cruise ships, making it the UK's third-largest cruise line.
TUI UK joined the 15below customer community in 2018; its sister company TUIfly, based in Germany, is one of our longest-standing customers having joined in 2003.
The challenges
Prior to working with 15below, TUI UK faced significant challenges that affected its everyday operations and restricted the service it was able to offer its customers. These included:
A manual, outdated system that allowed the company to send just 35,000 passenger communications each year. The operation of the system required a lot of manual intervention.
Such a low volume of messages made it impossible for TUI UK to inform and empower its passengers during disruption.
99% of TUI UK's flights are changed over in under three hours. With such short layovers, even minor acts of disruption often lead to delays and unplanned schedule changes.
Communications could not be personalised or amended to contain information relating to a specific event.
TUI UK paid out £7.5 million in compensation to passengers affected by delays or cancellations in a single summer season in 2015 as a lack of reporting capabilities meant the company was unable to challenge over 80% of claims.
The objectives
TUI UK realised it needed a complete overhaul of its passenger communications capabilities so it could guarantee best-in-class customer service.
Its objectives included:
Improving the way it communicated news of flight delays and cancellations with passengers.
Offering an industry-leading customer experience to every passenger.
Reducing the number of compensation payments to passengers affected by delays or cancellations.
Adopting technology that would allow it to update flight crew, handling agents at airports, tour operator representatives in resort, contact centre and social media teams in Head Office and Port Agents in departure ports for its cruises.
The solution
TUI UK adopted a bespoke version of the Flight Status solution from the 15below suite following a complex development phase that ensured its unique requirements were met. Flight Status allows the airline to:
Automate all passenger communications, eliminating the need for manual input.
Communicate with every single customer that it held contact details for.
Send notifications via email and SMS.
Create bespoke templates and content.
Send ad-hoc notifications relating to a specific act of disruption.
Use dynamic fields to create personalised messages for every single customer.
The TUI UK team is the first to use the 15below platform to communicate with on-board crew, ensuring staff members are always the first to know of disruption so they have the necessary information to effectively support passengers.
15below has also integrated Flight Status with TUI UK's cruise operations to keep passengers, crew and port authorities informed during cases of disruption.
If a flight heading to a cruise departure point is disrupted, notifications are triggered to alert the Port Agent and crew onboard the ship. A bespoke 'day of the week' function ensures the relevant Port Agent and Guest Relations Manager are notified depending on who will be on duty when the ship is due to depart.
This allows Port Agents to plan alternative departure times and/or routes to ensure affected passengers reach the ship, while Guest Relations Managers will work to protect the relationship with delayed travellers.
The results
TUI UK's adoption of Flight Status went live in May 2019. Since then TUI has achieved the following results: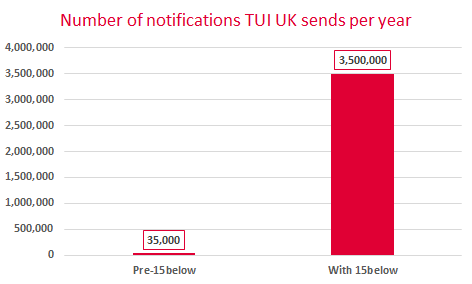 Automation has given the airline the potential to communicate with all 10 million customers with as many messages as necessary.
It sent 1.5 million messages via the 15below platform and is projected to send more than 3.5 million notifications in its first year; a 100x increase on the 35,000 it was able to send each year prior to working with 15below.
Every single passenger whose itinerary is affected by a delay or cancellation is now automatically notified with a personalised message via email or SMS*.
The 15below user interface provides TUI UK with a wealth of data that allows the Operations team visibility of all notification sends, content and end-user actions.
No more manual processes consuming valuable staff time and cost. The time it takes TUI UK to deal with a single act of disruption has been cut from 30 minutes to 5 minutes.

Testimonial 
"The 15below platform has enabled TUI UK to modernise its approach to managing a customer experience in delay and irregular situations. From TUI's experience and our customer research, it is not necessarily the delay itself which customers object to but how they are treated and informed during a delay situation.

"The 15below platform has enabled TUI to enhance its communication capability during these situations and ensure all TUI staff who will have a customer interaction during a delay or disruption situation can assist in managing customer expectations and experiences."

Stephen Smith
Programme Delivery Manager - Operations, TUI UK & Ireland
 
*Where contact details are available.