03 October 2019 | Case study
How Swoop communicated the impact of a bird strike in just 30 minutes to keep passengers moving
On 10th September 2019, a Swoop aircraft suffered a bird strike and was subsequently grounded in Abbotsford, Canada.
The aircraft was due to be used for two flights later that day between Abbotsford and Las Vegas, impacting 220 passengers in total.
How did Swoop keep its passengers moving?
Swoop operates a small fleet, so taking one of its planes out of operation entirely had to be avoided at all costs.
Following the bird strike, the airline acted quickly to lease a replacement aircraft from WestJet, enabling it to complete the two flights as planned. This ensured the schedule would not be interrupted and all passengers would be able to reach their destinations without any disruption.
However, Swoop was legally required to inform all affected passengers that they would be flying on a WestJet aircraft. It had just six hours before the first flight was due to take-off, meaning the communication had to be sent quickly and via the best channels to inform passengers in time.
A fast, simple and personalised response
Having integrated with the 15below platform in early 2019 in order to effectively manage acts of disruption, Swoop had the option to respond with both automated and manual notifications. In this case, with the disruption limited to just two flights, it opted to send a manual communication to the 220 passengers due to fly.
Only minimal manual inputs were required to enable the airline to contact every single affected passenger with a personalised message, including their new reservation code for the flight with WestJet. Swoop's Central Support team chose a template for the notification, confirmed contact details as well as flight information for the affected passengers via the 15below platform and instantly sent the personalised notification to every available point of contact on each PNR.
This is the notification it elected to send on 10th September: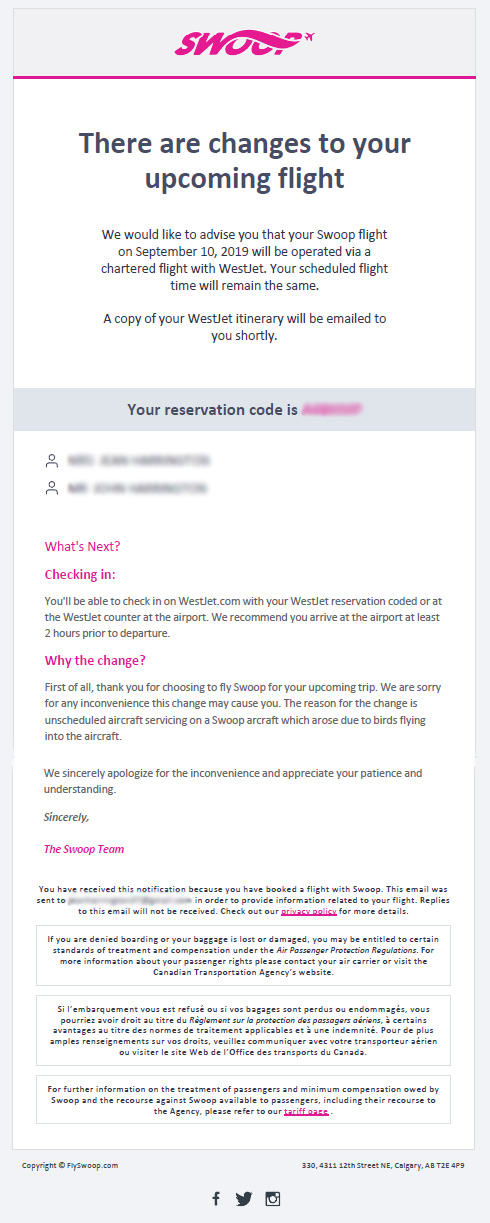 The result
Swoop was able to inform every affected passenger of the change to their flight with minimum effort and, crucially, in the shortest possible time.
By relying on the 15below platform to manage its response, Swoop achieved the following results:
Dealing with the disruption took just 30 minutes.
All 220 affected passengers were informed of the aircraft change.
Only one member of the Swoop team was required to manage the process.
As the majority of the template was already created and approved by relevant departments (including the Legal team), Swoop was able to send the notification without any internal delays.
Prior to working with 15below, Swoop would have:
Drafted a bespoke communication
Sought internal sign-off on the content of the notification – wasting precious time.
Manually entered all email addresses/mobile numbers before sending.
Required two to three members of staff and approximately two to four hours for the disruption to be processed.
Testimonial 
"Updating travellers in a timely manner is a win for both the travellers and the business. 15below allows us to manage IROP notifications in as close to real-time as possible and the ease of use of the 15below platform allows our internal team to focus on the important things – getting our travellers where they need to go."

Jackie Strangis, Supervisor - Contact Centre and Central Support | Swoop