27 August 2020 | Blog
Removing human error with automation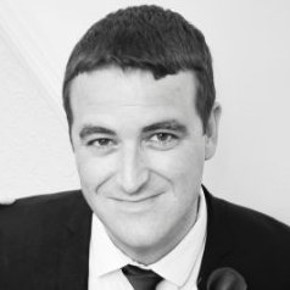 The Author
15below's Head of Commercial Al Tredinnick has helped many of the world's best-known airlines – including British Airways, SWISS, Lufthansa, Etihad and Cathay Pacific – adopt world-class passenger communication strategies. Specialising in customer experience best practice, Al helps airlines of all sizes achieve greater profits through best-in-class customer service.
To err is human: human error has always been a fact of life that we cannot avoid. But airlines can mitigate it - and the inevitable loss of revenue that occurs as a result.
We've all been there: we've received an email from a business that's quickly followed up with an "oops, we made a mistake!" communication. In most cases, there's no harm done. But when it comes to travel, "oops" has far greater consequences than the retail-industry equivalent. When it causes confusion on a massive scale, customers are understandably less forgiving. The result is wider-reaching than you may think – with an airline carrying 10 million passengers facing losses of $5.1m every year as a result of negative reviews (source: 15below ROI calculator).
So what's the answer for airlines when they need to communicate with thousands of people at the same time – often at short notice?
For the last 20 years, we have worked with more than 50 of the world's busiest airlines - like SWISS, Ryanair, and Cathay Pacific - to help them deal effectively with IROPS whilst managing the reputation of their brand.
When used correctly, automation works seamlessly: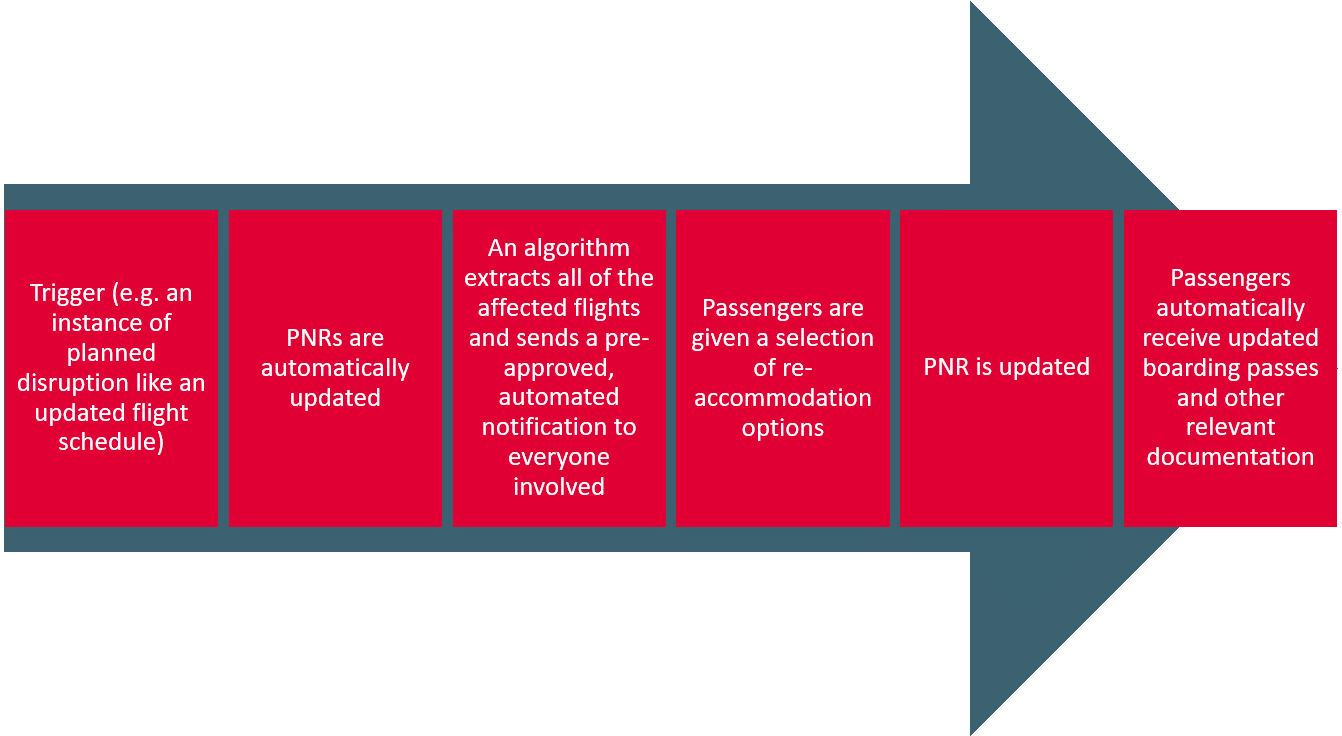 In many instances though – for example, during acts of unplanned disruption where there is no "trigger" to send automated communications – some manual intervention is required. If an airline is anticipating bad weather in a few days' time that is likely to impact a significant number of flights, for example, we recommend that our partner airlines follow three key steps that help to avoid human error:
Set up the platform so that only certain people have "send" access. This means anyone with a lack of information or technical understanding is unable to make the final decision.
Ensure the majority of the notification is pre-approved by relevant departments (such as the legal team) and these elements are locked to ensure only minimal information can be altered.
Take advantage of the detailed filters which will mean communications are only sent to relevant passengers.
Using the right tool for the job
Today I received a notification in error from Singaporean low-cost airline Scoot. While I was booked to fly with Scoot at some point this year, the trip was obviously called off due to COVID-19. But I was never due to fly to Guangzhou on 30 August… Despite receiving the email four times, I knew it was just an error and didn't bother to follow it up.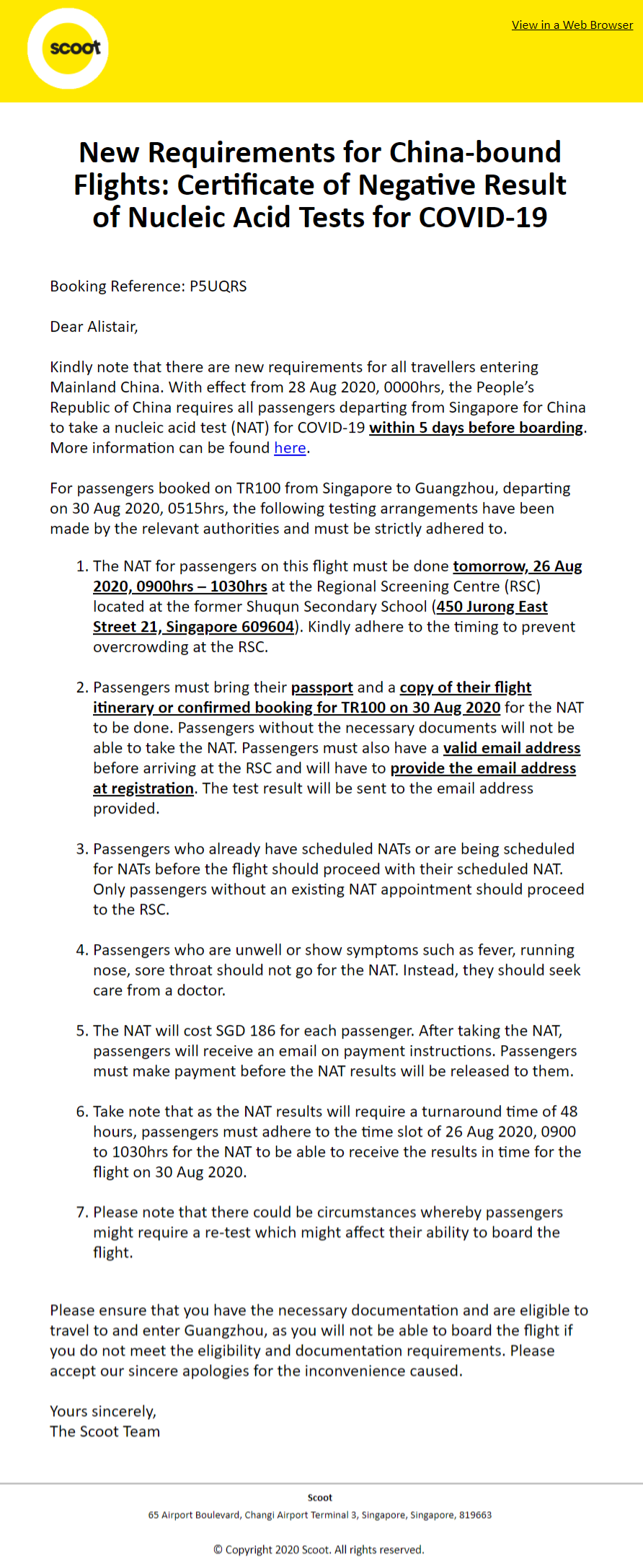 Seven hours later I received an update with an apology from Scoot's CEO. Apparently the notification, whilst only meant for passengers booked on to flight TR100 from Singapore to Guangzhou on 30 August, was in fact sent to "a distribution list containing customers who have travelled with Scoot in the past, or who have a future booking to any destination." Wow. That's a lot of confused people!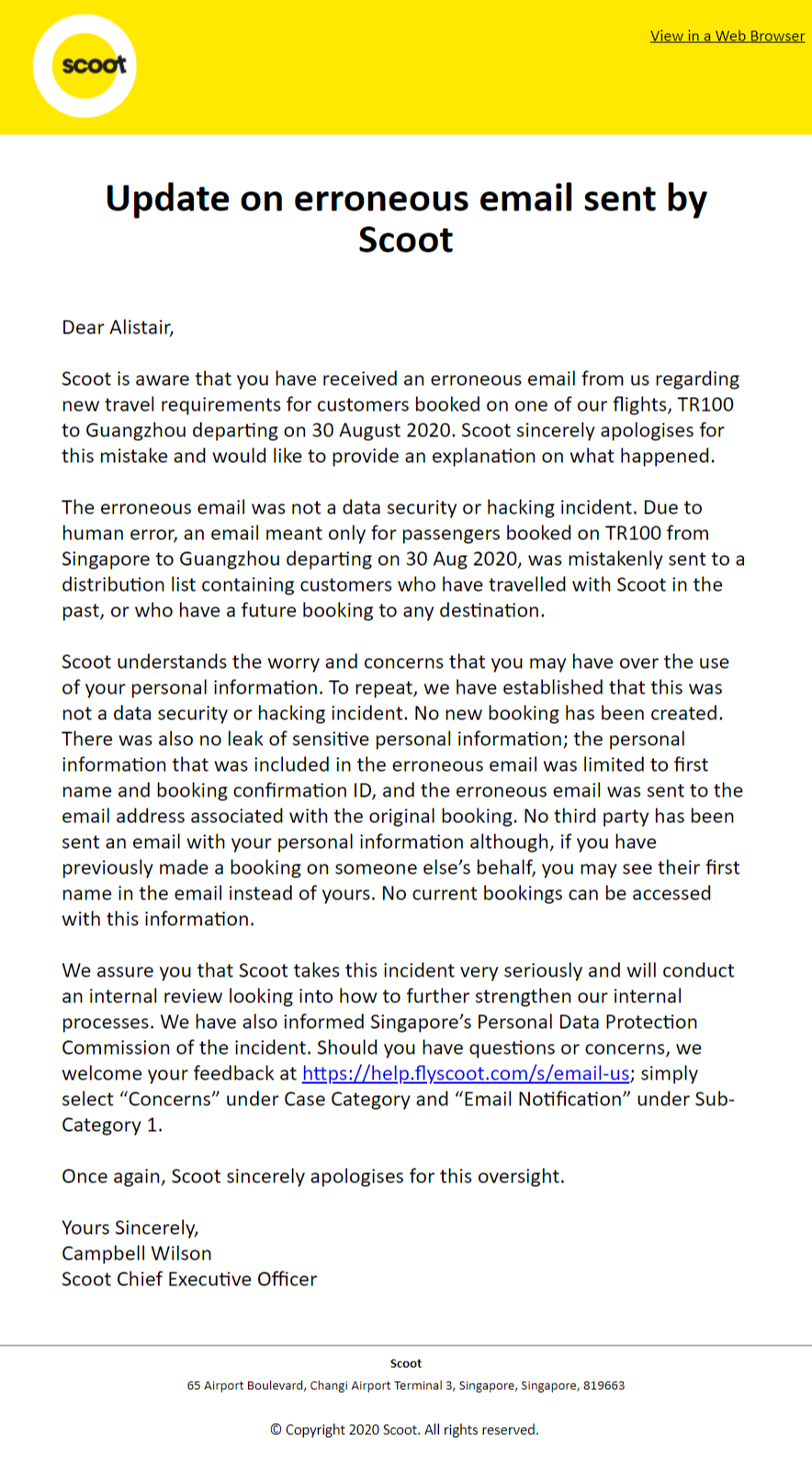 I dread to think how many confused people Scoot's contact centre had to handle in that seven-hour period! I suspect it was an expensive error.
While Scoot is a customer of ours and their itineraries are sent from our platform, unfortunately we do not send their pre-departure notifications. This erroneous message was likely to have been sent out from a CRM system or marketing platform. You can read our thoughts on why these systems are not appropriate for operational communications like this here.
We get it though. Finding the balance between automation and manual intervention can be a tricky process. And that's why travel companies that are part of the 15below community enjoy not only the advanced technology that we provide but also the wealth of knowledge that we have gathered over two decades of helping travel companies around the world keep their passengers informed and empowered.
In 2019 alone, our fantastic support team was on hand for our customers and...
Resolved 3,842 tickets
Answered 11,588 customer emails
Implemented 346 change requests
Actioned alerts from 3,000 monitors across two data centres
Handled 980 on-call alerts
Supported the sending of over half a billion notifications
 
If you would like to find out more about limiting human error with automation, download our Guide to Automation, or get in touch with a member of our team for more information.