28 February 2020 | Blog
REAL ID Act: What is it and what does it mean for airlines?
UPDATE 24/03/2020: President Trump has announced the deadline for the implementation of the REAL ID Act has been postponed and will no longer be 1st October 2020 as planned. No new date has yet been announced. 
With just over seven months until the REAL ID Act comes into effect across the US, airlines that operate domestic routes should be aware of the new regulations and their relevance to the industry.
As travel sector leaders warn that industry growth could be jeopardised if airlines do not communicate news of the Act to passengers, we've answered some of the most common questions people are asking here:
What is the REAL ID Act?
The REAL ID Act is a piece of legislation first recommended in the 9/11 Commission's report and passed by US Congress in 2005 that aims to ensure safe, more secure ID documents are issued.
It establishes new security standards for state-issued driver's licences and prohibits Federal agencies from accepting documents from states that do not comply with these.
It will apply in three scenarios:
Boarding commercial aircraft.
Accessing Federal facilities.
Entering nuclear power plants.
In each of these circumstances, if an individual does not hold REAL ID (or a valid alternative, such as a US passport), they will be denied entry.  
Who does it affect?
All passengers taking a domestic flight within the US and airlines operating those services.
In particular, US citizens who do not have a passport and instead rely on a traditional state-issued driver's licence to board domestic flights must take action to ensure they hold valid documents.
When does it come into effect?
1st October 2020.
How will things change?
Once the REAL ID Act is implemented on 1st October:
Individuals who wish to take domestic flights must obtain a REAL ID-compliant card (or an acceptable alternative).
All states must issue REAL ID-compliant driver's licences and ID cards.
47 of the 50 US states already accept REAL ID-compliant documents. The exceptions are Oregon, Oklahoma and New Jersey, which are all expected to comply before the deadline.  
What ID will/won't be accepted?
To board a commercial flight in the US, passengers will soon need to show one of the following:
A REAL ID driver's licence.
A state-issued enhanced driver's licence.
A US passport.
How will people know if their documentation is REAL ID-compliant?
REAL ID-compliant driver's licences will include one of the following markings near the top of the card:
If the document does not contain one of these symbols it is not REAL ID-compliant.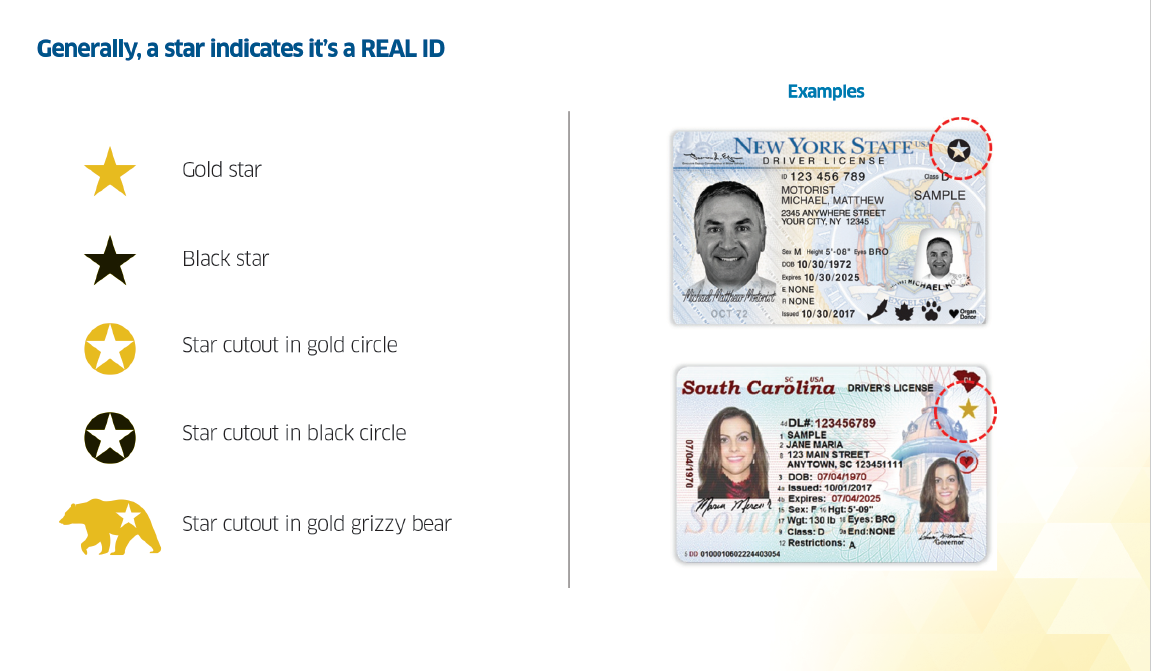 What does this mean for airlines and passengers?
The REAL ID Act will have a significant impact on domestic travel in the US.
In November 2019, it was estimated that 99 million Americans – about 40% of the adult population – did not have REAL ID and would currently be unable to fly under the new regulations.
As well as the threat of people without REAL ID putting their travel plans on hold and the impact this would have on bookings and industry growth, it's also worth considering:
An expectation from passengers that your airline will keep them informed of important, relevant legislation affecting their ability to travel.
The possibility of displaced passengers being turned away from airports and the negative reputational consequences of this.
There is only one way for airlines to tackle the issue of REAL ID in a way that both protects their interests and ensures passengers will be able to continue to board domestic flights. This is to communicate news of the Act and the imminent deadline to their customers, especially those who book flights set to depart after 1st October.
We work with airlines across the US, including JetBlue, Spirit Airlines, Hawaiian Airlines and Frontier Airlines. We're at the forefront of the industry so if your airline would like to benefit from our experience and best practice, contact us to find out more.