21 December 2022 | Blog
The link between IROPS and customer loyalty
IROPS and airline disruption has been a topic that has had a lot of focus recently, with airlines managing significantly more unplanned disruption than normal. But how does your management of IROPS impact the loyalty of your customers?
We've previously written about why delivering exceptional experiences is key to customer loyalty as it's well known that a significant part of any passenger's travel experience is how their airline deals with an IROP.
What is an IROP?
Here at 15below, we consider an IROP (or Irregular Operation) as any airline disruption which is unplanned, leading to delay or cancellation. Whilst more dramatic scenarios such as storms grounding all flights from an entire airport, or aircrafts 'going tech' are not uncommon, IROPS also encompass smaller everyday challenges such as boarding delays, crew shortages and passenger issues caused by immigration checks or security concerns.
Why an airline's handling of IROPS impacts customer loyalty
Disruption is expensive; worldwide it costs airlines 8% of revenue (around $60 billion across the industry every year). Whilst this is an astonishing figure, looking at up-front costs which immediately affect the bottom line (for example compensation and re-accommodating passengers) shouldn't be the only outlay to consider when determining the impact of an IROPS management strategy: The potential loss of future business is too great to ignore.
Research has found that airline disruption and delays negatively impact customers' loyalty and willingness to book with the same airline in the future. Common sense says that if you delay or cancel a flight, passengers will be less likely to book with you in future... UNLESS you can provide a level of service that keeps your customers calm and informed to a level that makes the most of a bad situation.
How can airlines improve customer loyalty with effective IROPS management? 
A survey of airline passengers carried out by the CAA found that 92% of respondents thought they'd experienced 'Poor' or 'Extremely poor' treatment during an act of disruption.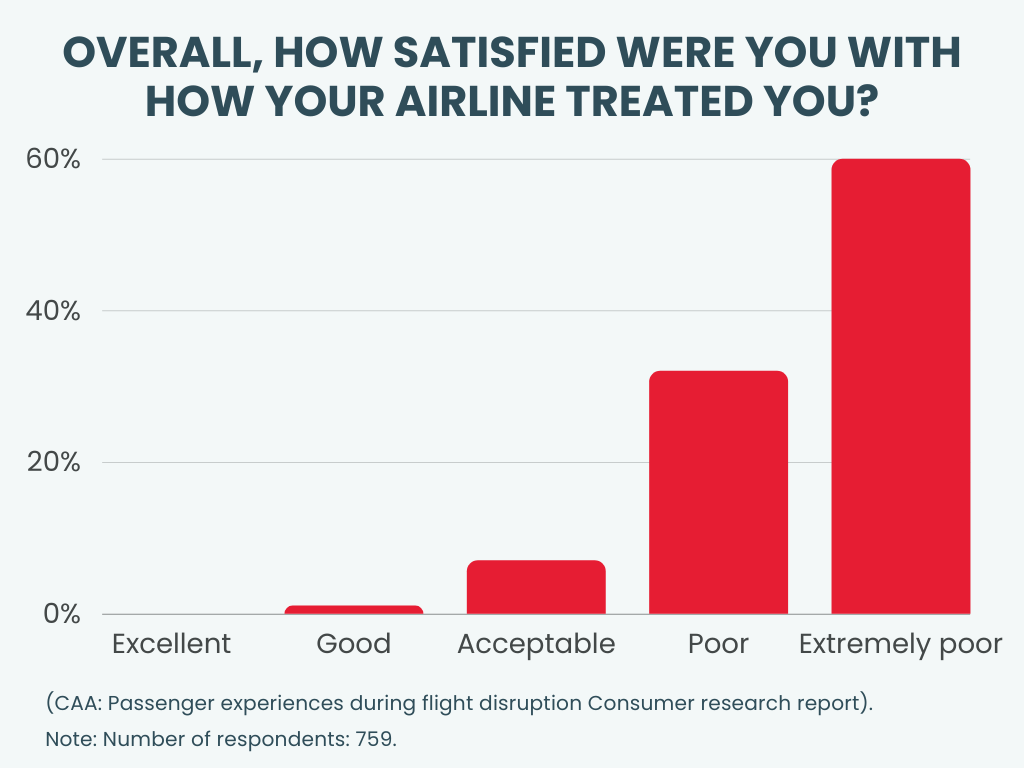 So, what can airlines do to deliver a service that passengers are willing to rate "Excellent" or "Good" after an IROPS event? In the same report, the CAA highlights what carriers can do to improve:
Clear and accurate information about the status of their flight – particularly when any disruption is likely to be resolved – can provide certainty and reassurance to passengers. Providing information at the earliest possible opportunity can prevent people travelling to the airport before they need to. If passengers are already airside, then clear and timely information can provide reassurance and help keep them calm.
Developing an IROPS management strategy that lets your staff stay in control during an IROP situation is important, allowing them to provide customers with a clear response that manages expectations. Your communications should give passengers reliable information in real-time, which keeps them assured and confident that their trip is being handled competently, and that information about any compensation due is clearly communicated. You should also remember that personalisation is an essential part of this strategy, with customers appreciating communications that are relevant to them.
Using our 20+ years of experience in the aviation industry, we worked with JetBlue to develop the 15below IROPS Dashboard which allows you to handle all IROPS confidently in one place, in turn improving the experience of your customers and promoting their willingness to book with you in the future.
Click below to learn how to manage IROPS effectively with 15below to keep your customers informed, empowered, and loyal, even when things don't go as planned:
Other content you may be interested in: