13 March 2020 | Blog
5 top tips to help airlines through the coronavirus crisis
As the coronavirus continues to cause major disruption to the aviation industry, our team has been working hard to support our customers as they rely increasingly on the 15below platform to process high volumes of schedule reductions and cancellations.
This trend started in Asia in January and February, continued through Europe and the Middle East in recent weeks and is now also being felt by our customers in the Americas. That's put us in a unique position to see exactly how leading airlines from around the world are managing the current situation.
Based on this, I've pulled together five top tips to help you remain calm and connected to your passengers throughout this period of uncertainty:
1) Contact details are crucial
Remind customers to update their booking with contact details so that you can quickly, easily and reliably reach them if you need to share an important update about their flight.
Just like… British Airways, which has been using multiple channels to urge passengers to visit 'Manage my Booking' to update their contact details.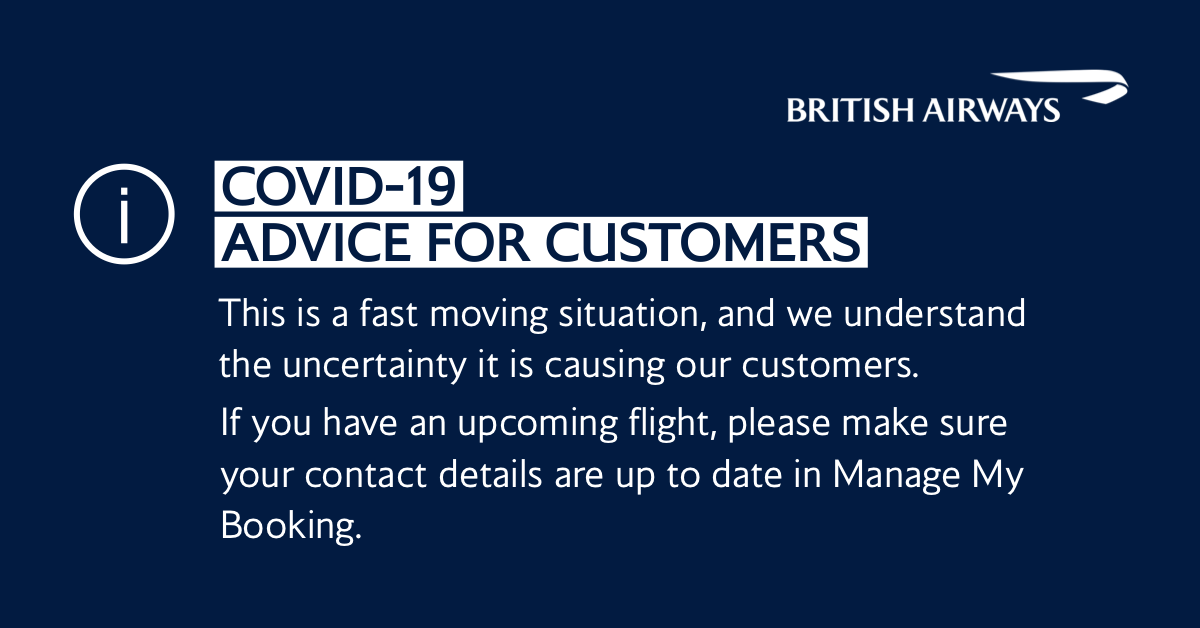 2) Communicate, communicate, communicate
Just like… Ryanair, which has used the 15below platform to send over two million notifications to passengers since the start of March, keeping them informed and updated of changes and cancellations as they occur.
Ryanair's notifications allow customers to opt for a refund or change their booking, driving down calls to the airline's call centre. Our platform allows unlimited notifications to be sent, without transactional fees, giving Ryanair – and many other major airlines – the confidence and freedom to communicate with passengers as frequently as they need to.
3) Work smart with your data
Using 15below's flight schedule and manifest data retrieval options – both of which are standard features available in our user interface – airlines can target affected PNRs and focus on communicating with passengers in order of the date of their flight, drilling down to target affected countries as a priority. 
Just like… Aegean, which has been using our Queue Manager solution to continue processing planned schedule changes and cancellations in a fully automated manner whilst they manage increased volumes of IROPS.
4) Reassure your passengers
Just like… The Lufthansa Group, which has released a series of videos about flying during the coronavirus outbreak. These videos give top tips and reassurance to all passengers travelling with Lufthansa, SWISS, Austrian Airlines, Eurowings, Brussels Airlines and Edelweiss Air.
Great content like this can be integrated within notifications sent via the 15below platform to ensure it reaches as many passengers as possible. 
5) Trust the experts
We know times are tough and significant challenges still lie ahead, but our team of experts are on hand around the clock to assist all our customers. We've been dealing with disruption for over 20 years and during that time we've helped many of the world's leading airlines overcome all types of events - including volcanic ash clouds, Ebola, and major storms - by staying connected to their passengers, driving outstanding customer experience and achieving optimum operational performance.
From sharing best practice tips to creating great notification templates and monitoring the platform as you process bulk sends, we're here to help you through this.
If you would like to find out more about how we can help you manage your passenger communications during the coronavirus outbreak, get in touch. Or, for more insights into how the coronavirus is impacting the aviation industry, visit our Coronavirus Information Hub.
Author
Gemma Chalk, Head of Account Management EMEA & Americas, 15below