17 July 2019 | Blog
Has your budget been cut? 5 macro factors putting pressure on the aviation industry
With airlines around the world cutting the amount they're spending, facing rising costs and issuing profit warnings, we've explored the factors that are impacting the industry the most:
1. A gloomy economic outlook
IATA recently downgraded its industry profit forecast for 2019. Having initially estimated airlines would achieve a net profit of $35.5 billion this year, it now believes this figure is likely to be more like $28 billion. While this figure still sounds impressive, airlines will have to fly more than 4.5 billion passengers to achieve it, leaving a profit per passenger of just $6.12 – down a startling 21% on 2018.
It only takes a swing of 3% in costs or revenue to cut into profits and leave airlines running at a loss. And with several factors bringing volatility to the market, this type of adjustment is looking to be entirely feasible.
As airlines come to terms with the prospect of slashed profits (or worse), many are cutting back even further in order to protect their bottom line.
2. The grounding of Boeing 737 MAX planes
Following the Ethiopian Airlines Flight 302 crash in March 2019, authorities around the world grounded the Boeing 737 MAX aircraft series. This was the second fatal crash involving a 737 MAX in recent months, after Lion Air Flight 610 in October 2018.
In total, 41 airlines invested in new 737 MAX aircraft; many of which are still paying huge sums for planes they cannot fly.
Norwegian's financial results for Q1 2019 show the grounding of the MAX cost it $58 million – a loss of $21 for every passenger who flew with the airline in the first three months of the year.
Meanwhile, TUI warned it would face a €200 million hit after paying out for replacement planes and Icelandair were forced to dismiss 24 pilots and suspend the recruitment of 21 others after five of its MAX planes were grounded.
With experts suggesting the grounding of the aircraft could last longer than anticipated, it is likely to place huge financial pressure not only on airlines that have already purchased these planes, but also those that have placed orders and will now have to defer delivery and cut routes from their schedules.
3. Geopolitical headwinds
A variety of geopolitical threats are combining to threaten growth in the aviation industry, including:
Brexit: This will come as no surprise to anyone! With the UK due to leave the European Union in October and a no-deal Brexit looming, the British aviation market could soon be severely restricted by additional regulations with European carriers flying to the UK also likely to suffer delays, limitations and new costs.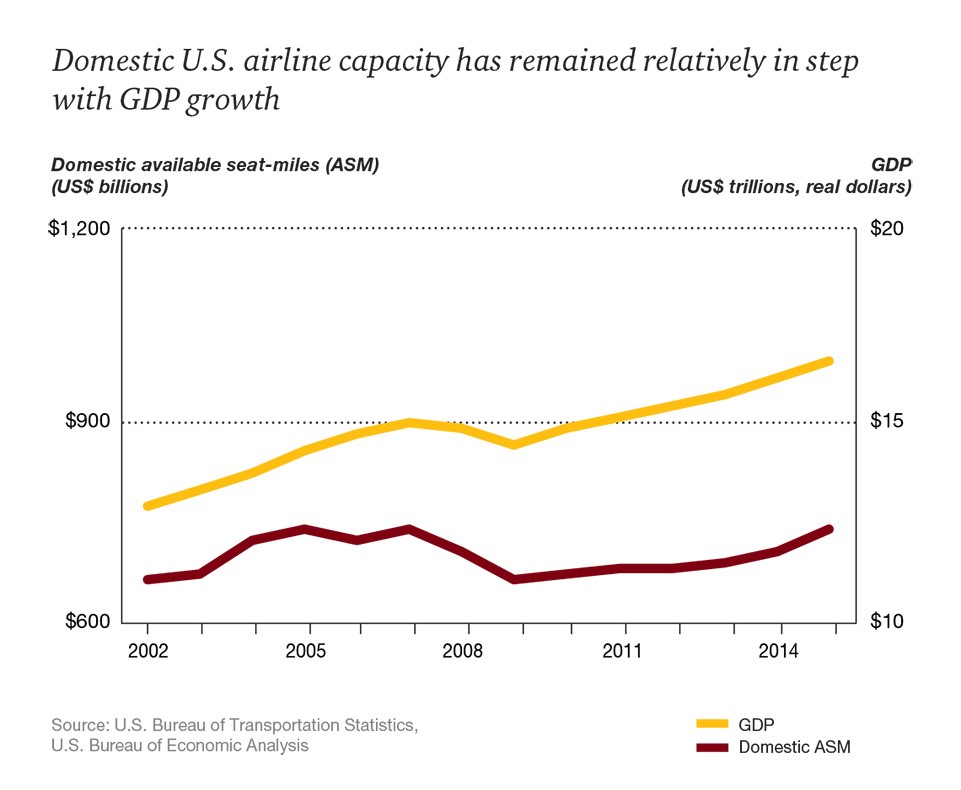 US-China trade war: The US' introduction of 25% tariffs on Chinese goods has led to forecasts that GDP could decline by up to 3%. While on the face of it, the trade war doesn't seem like something that would impact the travel industry, a ripple effect is seen due to GDP typically being linked to air passenger traffic growth. 

Rising interest rates: Several currencies around the world are weakening against the US dollar, such as those in India and Indonesia that recently found themselves at 20-year lows. This is punishing for airlines that buy fuel in dollars but receive fare revenue in their local currency.

Political disagreements: Political unrest in one region can have a major impact on airlines from a much wider area. For example, the recent 5-month closure of Pakistani airspace following a dispute with India caused significant disruption to airlines flying between Europe and south-east Asia.
4. Rising oil prices
While airlines can rely on many fixed outgoings – such as aircraft investment, maintenance and staff costs – they remain vulnerable to significant fluctuations in oil prices. Oil was trading at $53.80 per barrel on 31st December 2018, yet just six months later on 1st July 2019 the price had risen to $65.06.
With fuel being a major expense for all airlines – and with the price increasing by more than 10% since the start of the year - many are understandably having to tighten their belts as a result.
5) Winter blues
Winter is obviously a tough time for airlines – and the winter of 2018-19 was particularly harsh on carriers in the northern hemisphere.
Ryanair – Europe's most popular airline – reduced its profit forecast twice in three months; on the second occasion, it blamed a reduction in winter fares. Lufthansa has also issued a profit warning and revealed it expects to have achieved only marginal growth this winter.
So, what does it all mean, and what can we do about it?
A combination of macro factors is placing airlines around the world under greater strain than ever before with extreme weather, political friction and one-off events such as the grounding of 737 MAX planes which are almost impossible to plan for.
The aviation industry is even more sensitive to these influences than other sectors due to its notoriously low margins. Plus, the nature of the industry means that safety will always come before profit, so technical issues and climate-change-related weather incidents will hit airlines hard every time.
In times of economic uncertainty, the best thing airlines can do is to ensure they are maximising the potential of every tool available to them to achieve optimal operational efficiency and minimise waste wherever possible.
At 15below, we help airlines automate passenger notifications, allowing them to reach millions of customers quickly, easily and reliably. Our platform is designed to reduce reliance on costly call centres and ground teams, while facilitating the delivery of exceptional customer experience that boosts loyalty and revenue.
Find out how Swoop used the 15below platform to cut the length of time it took them to deal with an act of disruption from 4 hours to 15 minutes.