12 December 2019 | Blog
Are you ready for dark mode?
Dark mode is one of the hottest digital trends of 2019 – and if it hasn't already started to impact the emails you send to your customers, it's time to get ready.
What is dark mode?
Dark mode is a feature that reverses the colour scheme used by most popular browsers, apps and email clients, putting light-coloured typography, graphics and iconography on dark backgrounds.
It's becoming increasingly common, with iOS and Android both adopting it and popular apps such as Instagram, Twitter and Slack now offering dark mode as an option.
However, it's not everywhere yet. So if you haven't considered its impact on your brand – on your emails in particular – there's still time to act.
Here's how one email appears in both light and dark modes: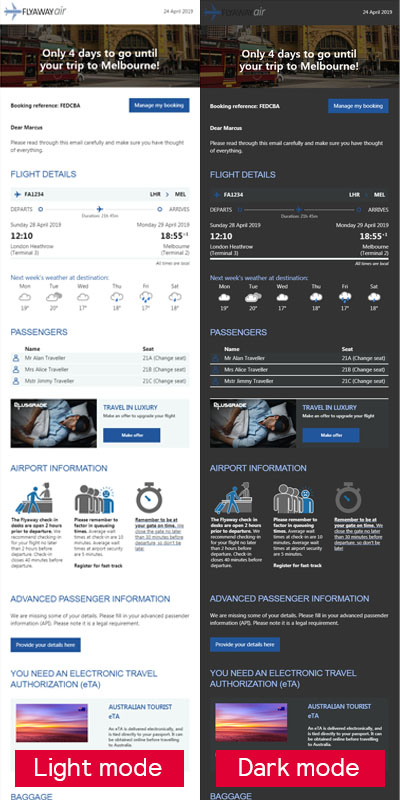 Why are users choosing dark mode?
Dark mode has been developed with user experience in mind. Benefits to users browsing your site or reading your emails include:
It's easier on the eyes, with light text on a dark background reducing eye strain at night and in low-light conditions.
Energy consumption is lower, increasing battery life.
Screen glare is lowered, flickering is minimised and content legibility is often improved.
The impact on your emails
Many of the largest email clients and apps already offer dark mode. These include Gmail, Outlook and Apple Mail.
However, the decision of major email platforms to support the new feature means there is now no guarantee that your emails will work or look the way you intend them to when it is activated. Indeed, dark mode will only make it more difficult to optimise an incredibly important channel by adding yet another consideration for marketers, UX professionals and operational staff across all industries.
Partial or full-colour invert?
To complicate matters further, you'll need to be aware of the different levels of dark mode that various email clients are adopting when displaying emails. These fall into two main categories:
Partial colour invert
A partial colour invert means the email client will invert only those areas of your email with a light background, switching these to show as dark. Any dark text is then displayed in lighter colours.
Full-colour invert
A full-colour invert essentially means your email client is sending your recipients a negative image of your original email. At this stage, images remain unchanged (including logos and icons).
You'll need to ensure your email designs are suitable for users who receive them via platforms using partial invert and full-colour invert, as well as those that are yet to offer dark mode in any form.
Top tips on how to send great emails in dark mode
1. Keep your designs simple
The easiest way to be confident of delivering a clear and effective email in dark mode is to ensure the original design in light mode is as uncomplicated as possible.  
2. Focus on your logo
Your logo is integral to your brand so take no chances on how it will appear in dark mode. Businesses with black elements in their logo should take particular care. You could consider adding a translucent outline to transparent PNGs to ensure dark elements are still visible when an email client selects either partial or full-colour invert.
Fail to take the appropriate action and your logo could end up appearing in emails like this: 

3. Avoid using GIFs
GIFs are unlikely to render as expected because the background colour of the image won't change with the background of the email.
In this example, the background colour of the email has been inverted, but the colour of the GIF has not: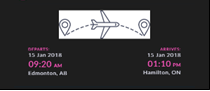 4. Keep black on white for text only
As dark mode is not standard across all email clients the result can be unpredictable - and you can't guarantee which elements will and will not be inverted. Avoid using black logos, images or icons on a white background as they may not be visible at all in dark mode.
5. Test, test and test some more
Dark mode is an emerging, evolving feature and regular updates are being made to the way that it works. Every business should be frequently testing their emails across all email clients and mobile operating systems – or working with a communications specialist that will ensure you're delivering the most effective communications that will get your message across while protecting your reputation.
What does the future hold?
Dark mode is here to stay, although the scale to which it will be adopted by different mobile operating systems and email clients – not to mention its popularity with users – is unclear.
There are undoubtedly still many questions surrounding the feature, its implementation and the elements it will affect. In fact, there is even speculation that it will become a compulsory feature across entire operating systems.
While this remains the case, progress is likely to be slow and many users may opt to switch it off, but it's clear tech providers are committed to making dark mode a standard feature; Firefox and Windows 10 are both set to adopt it soon. Therefore, if you rely on email to communicate with your customers, you can't afford to ignore it.
At 15below, we've been researching dark mode for some time and we're preparing to build solutions that are platform agnostic. We'll also continue to develop our industry-leading user interface to meet the demand of our customers to send emails that deliver best-in-class personalisation, user experience and brand value.
Contact us today for more information, or to speak to our in-house experts about how dark mode will affect you.